Playmobil dives into their newest license with Dreamworks Dragons series of films. The result is a wildly different set for the company, but one that's pretty slick.
Building sets? Not really.
Eh, honestly Playmobil doesn't really make "building sets" in the vein of LEGO. I know some people think of the company that way, but that's not really what it is. It is understandable though, that there's that label. That's because the toy-maker's products require assembly once the box is cracked open. But really, the process that follows is more akin to putting a GI Joe vehicle together than making a LEGO set.
What Playmobil actually does is just make some plain old neat toys, skewed for a younger audience. And that's pretty great since there aren't too many lines around anymore that do that. Once in a while however, the kids and collector market meet in the middle. And you get something like Playmobil's Ghostbusters line… and Dragons.
This set is in that series of course. And Fishlegs and Meatlug isn't your typical Playmobil set. Much like the Ghostbusters line, the Dragons series has some terrific sculpting and detailing. Actually I think that's something that isn't appreciated across the boards when it comes to Playmobil, but I digress.
You also don't really need to be a fan of the source material to dig this. It's just a cool set of figures, that I think a whole lot of fantasy fans would like. So let's dig in.
Packaging
The packaging for the Dragons line is bright and cartoony. If you know Playmobil at all, then you knew to expect that though. All packaging in Playmobil's lineup of toys looks more or less the same. It's the content that's on it that's different.
The box is mainly blue in color with big splashes across it of the Dragons logo, and pics of the actual figures. The front shows off the figures in "action" while the rear has a display of everything included.
Once you crack the box open, you'll find a couple of baggies, each one containing parts to build your new set. Meatlug, the dragon, is not in a bag, cause he's so big and chunky. No mere plastic bag can contain his beefy power.
The instruction sheet is in there too, not that you'll probably need it. This isn't a complex build, and nowhere near as deep as making what you'd expect to find with your typical "building set". Still, if you get confused by anything, it's nice to have. Likewise, if a youngster is taking lead on the assembly, then you're definitely going to want to fold these out.
Meatlug
The dragon in the box, Meatlug is really cool. His sculpt is awesome. A big and chunky dragon, Meatlug has some stumpy little legs, as well as a pair of wings that are articulated at the shoulders. So you're able to display him with his wings spread out for flight, or with them sort of down against his body. They don't get completely into the kind of a position that you'd want for that pose, but they look good enough.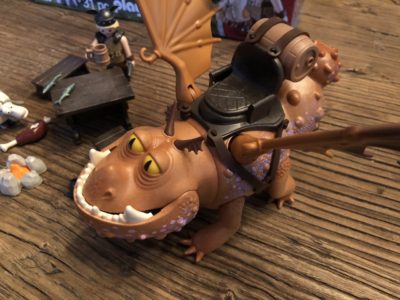 He's also got an articulated jaw. You can open and close his jaw to varying degrees, which makes for a little more dynamic posing, as well as some excellent play options for the kids. I know if I was a kid, he'd have been munching on a few of my smaller action figures in no time flat.
The rest of the set
While Meatlug is the main attraction, there's way more in the box here than just him. Also included is a selection of really great accessories and a human figure – the viking Fishlegs. He's exactly what you'd expect from a Playmobil future, and looks much like the rest of the figures in every other line that the company makes. The difference is that he's got some viking-inspired garb.
Oh, yeah, and there's also a sheep. A really neat little sheep with a great facial expression and a bullseye painted on him. I haven't seen any of the Dragons films, so I don't know for sure, but it seems that this little guy is for target practice. I assume that means for Meatlug's fire-breath.
As for the rest of the inclusions, they're awesome. You get basically a full camp setup, with a dining table, barrel (with fish!), campfire, weapons for Fishlegs, saddle for Meatlug, and more. There's even a stein of mede. That's just cool.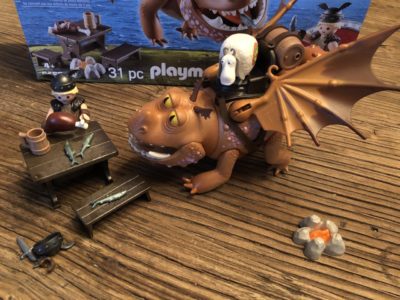 A cool set that's perfect for fans
All in all, I really dug this set, and I'm not even a fan. Playmobil seems to be going all out for the Dragons line, and really all of their licensed stuff that we've seen coming out. That's most appreciated as a collector, and should be awesome if you're either a fan, or have a child who is one.
Of course too, this is just one set in a series of them. So if you are a fan of Dreamworks' Dragons, then you might want to start thinking about clearing off a shelf.
Sample provided by Playmobil for review
Fishlegs and Meatlug
Release Date: Available now
Produced by: Playmobil
Series: Dreamworks' Dragons
Suitable for children aged 4 and up
Dragon sized fun
Terrifically detailed sculpt on the dragon - 91%
Great value with tons of accessories - 94%
Wonderful playability - 87%
A great new line from Playmobil, Dragons roars to life with the fun and detailed Fishlegs and Meatlug. The set includes a well sculpted dragon, a viking figure, and a ton of accessories. It would look great on a collector's shelf, but also be tons of fun for a kid.