The delay pushed back the inevitable, but the latest Nintendo Direct could not be stopped. Thirty-five minutes of Switch and 3DS goodness clarify the rest of 2018, early 2019, and Nintendo's upcoming online service.
If you would rather watch than read, don't hesitate to check out the latest Nintendo Direct here.
This started out nice and quick with an announcement of Luigi's Mansion 3 on Nintendo Switch, launching in 2019. The trailer was over about as soon as I realized it wasn't the original Luigi's Mansion for 3DS.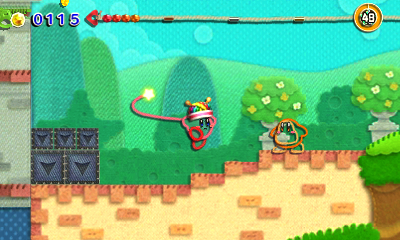 The 3DS news was quick: Kirby's Extra Epic Yarn was announced, with every stage from the Wii and a few new abilities, worn as little yarn hats, a Devilish Mode that adds extra challenge to the supremely easy game, and some minigames allowing you to play as King Dedede and Metaknight. The game will come out in 2019.
Mario and Luigi: Bowser's Inside Story + Bowser Jr.'s Journey will launch on January 11, 2019.
Luigi's Mansion for 3DS has full campaign co-op if you and your friend both have a copy, and a co-op boss mode you can take on with Download Play. The game also features amiibo support; scanning them will reveal hidden boos or heal Luigi, among other things. The game launches October 12, 2018.
Yo-Kai Watch Blasters, out now, will be getting a Moon Rabbit Crew content DLC on September 27, adding new missions, new areas, new Yokai, and new big boss Yokai.
That's a wrap for the 3DS, which meant it was all Switch from here on out: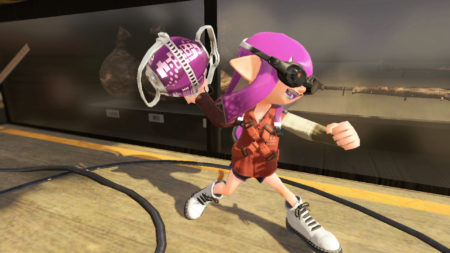 Splatoon 2 is getting a 4.0 with new equipment sets, new weapons, and a new 100x Battle Mode. Details to come, while new weapon sets are coming tonight. A new sub (which you shake before throwing) and new special weapons (including a mallet of some kind) are on the way "soon."
Mega  Man 11 will support Mega Man amiibo, and they'll give you e tanks and other items. The demo is available now, and the game releases on October 2.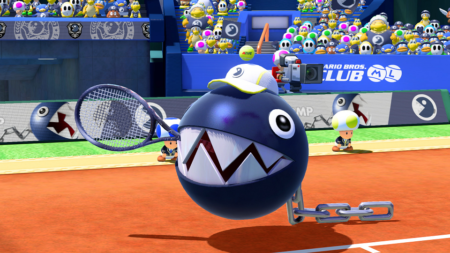 Mario Tennis Aces is getting a Version 2 update on September 19, which will add time limited online co-op missions. Completing objectives will allow players to earn alternative colors and some new outfits (shown off were hats for Boo and Chain Chomp). The all-around character Birdo, the technical Shy Guy, the technical Koopa Paratroopa, and the powerful Petey Piranha will join the roster soon, and new characters are promised through next June.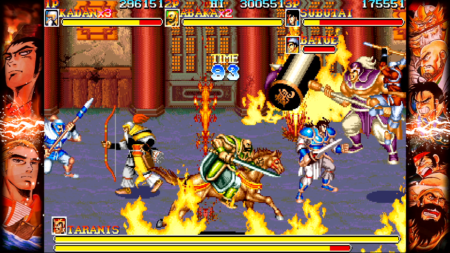 Capcom Beat 'Em Up Bundle was announced, giving 4-player local and online co-op to seven classic games, including Final Fight, The King of Dragons, Captain Commando, Knights of the Round, Warriors of Fate, Armored Warriors, and Battle Circuit. The latter two are making their console debut. The game will launch on September 18. It is available now for prepurchase, for $19.99.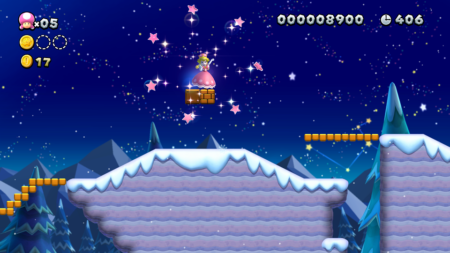 New Super Mario Bros U: Deluxe is bringing all 164 stages from the original and the New Super Luigi U DLC to the Switch, and is adding a playable Nabbit (who doesn't take damage from enemies) and Toadette, who can pick up a Super Crown to turn into the adorable Peachette, capable of double-jumping and recovering from a pit. The updated game will launch on January 11, 2019.
Katamari Damacy REROLL, and HD remaster with gyro controls, HD rumble, and multiplayer battles, is coming Winter 2018.
Nintendo Switch Online is launching September 18 this year, letting you pay for your online and the use of the smartphone app that you've already been enjoying. A library of updated NES games (featuring online multiplayer), will be accessible, as well as cloud saves that automatically back up most of your save files. Special offers will also be included, but details will be forthcoming (it kind of felt like now was the time to discuss them, but oh well).
NES controllers will also launch for the Switch, to help you get that classic experience.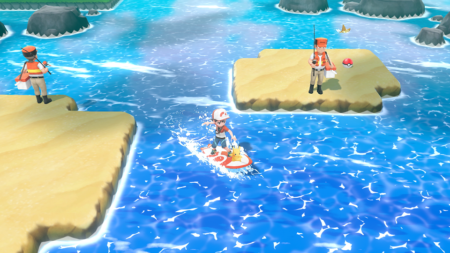 Pokemon Let's Go Pikachu and Let's Go Eevee were shown off, including HM replacements called Secret Techniques that allow you to Cut, Surf, and Fly. Pikachu and Eevee will also learn some "powerful" new moves. The hairstyle function we've learned is the result of petting your Pokemon in handheld mode- the way you pet them will affect which hairstyle results. The game is looking better and better, but I find the Go-esque features to be off-putting.
Diablo III Eternal Collection is launching on November 2, and will let you scan amiibo to summon monsters, which will drop some treasure.
Super Mario Party has a Sound Stage dance mode, a River Survival Co-op mode, and the previously announced Toad's Wreck Room minigames- which see two Switches connecting wirelessly for some local fun. All 80 minigames are brand new, and the 4 player board game looks to be a return to form. Single-players can take on a Challenge Road of minigames, or head online for a Mariothon Minigame mode. The game comes out October 5.
Another surprise came in the way of GAME FREAK's Town (working title). The whole story of this little RPG will be told in one village, where you can enlist the aide of fellow villagers in turn-taking battles against monsters. The game will launch in 2019.
Cities Skylines is launching today for Nintendo Switch's eShop, and includes the After Dark and Snowfall DLC.
Daemon X Machina showed off some gameplay, but didn't announce anything new. The game will let you improve your human form (as a reminder, you can step out of your Arsenal at anytime to explore the map) via RPG style enhancements, and any gun you bring back to base will be usable in future missions. The game's missions feature online co-op, so you can fight the giant bosses as a team. The game is coming out in 2019.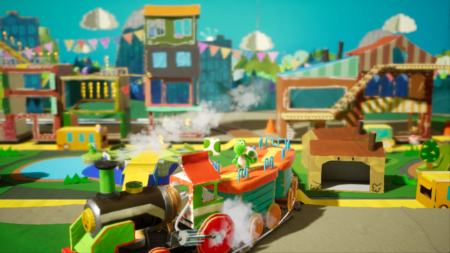 Yoshi's Crafted World brings back the game announced forever ago, and confirms it will include cooperative play, like the other Good Feel games. In some way, you'll even be able to play stages backwards. We'll find out how that'll work when the game comes out in Spring 2019.
Developer Asmodee is bringing table-top gaming adaptations of best-selling table-top games, including Carcassone (solo-play and local multiplayer; expansions available as paid DLC), The Lord of the Rings: Living Card Game (single-player and co-op), and Pandemic (solo and local multiplayer, with expansions available as paid DLC). More are promised to be on the way, including Catan Universe and a dungeon crawler based on Munchkin. The games will start coming out this December.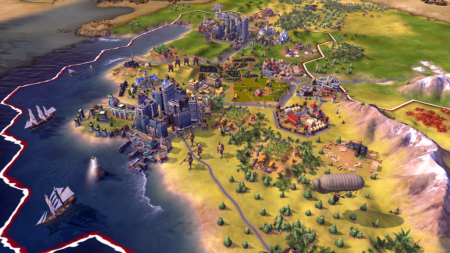 Sid Meier's Civilization VI, as previously reported, is coming to Nintendo Switch on November 16, and will feature local multiplayer for four players.
Starlink: Battle for Atlas will feature complete integration of the Starfox squad, and even Wolf was teased. The toys-to-life game comes out on October 16.
The World Ends With You: Final Remix is bringing a new story segment with "A New Day," featuring new monsters, a new reaper, Coco, and a remixed Shibuya. The game launches on October 12.
Xenoblade Chronicles 2's Torna- The Golden Country will be out tomorrow for expansion pass holders, and on September 21 for those who want to try the standalone version.
After that, a quick reel gave us some quick dates: Warframe comes out on November 20, Just Dance 2019 comes out on October 23, Fifa 19 comes out on September 28 (prepurchase tomorrow), Team Sonic Racing comes out this winter, NBA 2K19 is available now, NBA 2K Playgrounds 2 comes out this fall, and LEGO DC Super Villains comes out on October 16.
Square Enix has announced a plethora of Final Fantasy titles are coming to the Nintendo Switch. Last week we learned about Crystal Chronicles (the Gamecube classic) coming next year to Switch and PS4, complete with online multiplayer and some new areas inside of dungeons. Final Fantasy XV: Pocket Edition HD is available today (currently $17.99, but poised to go back to $29.99).
World of Final Fantasy: Maxima is coming, and introduces to the game a new Avatar Change system allowing the player to transform into legendary characters from the franchise's history (Noctis and Yuna were shown). The game launches on November 6.
Chocobo's Mystery Dungeon: Every Buddy! is coming this winter, and brings 2-player co-op to the Wii game.
Final Fantasy VII, IX, X/X-2 Remastered, and XII: The Zodiac Age are all coming to the Nintendo Switch in 2019, putting Cloud's proper game onto the console that stars him in its all-star fighter.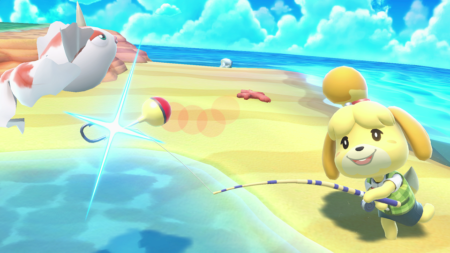 Speaking of Super Smash Brothers, the game is getting a hardware bundle on November 2 (presumably the game is still coming out on December 7), which includes a download voucher for the full Super Smash Brothers Ultimate. The dock and joy-cons have some sweet and simple art, so if you're without a Switch, and still a Super Smash die-hard, you may have waited long enough.
Animal Crossing's Isabelle is also joining the Super Smash Bros roster, and appears to be to the Villager what Lucas is to Ness: a redesign that takes cues from the original's moveset.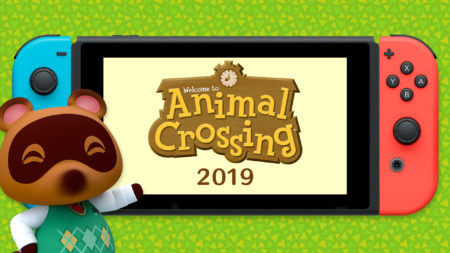 Oh, and just in case the Isabelle teaser threw you for a loop, Nintendo also gave us one of their newly-minted title-only announcements: a brand new Animal Crossing is coming to the Nintendo Switch in 2019.