Conan is almost here, joining Marvel Comics' publishing slate in January 2019. Now we know who'll be writing and drawing the famed barbarian.
So what is best in life anyway?
Comics! Comics are what's best in life. Specifically, Marvel hopes that the series of Conan comics that they're about to release will be your new favorites. Taking the reigns from Dark Horse, the publisher announced a new series, as well as a bunch of collected volumes (of older stuff). Now we know who'll be helming the new book, and it's a solid lineup.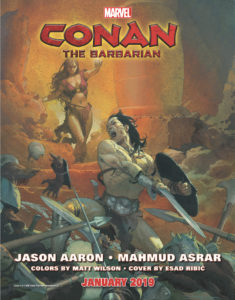 Jason Aaron will be writing the book, who you probably know from tons of other Marvel Projects, including Punisher Max, Thor, and Ghost Rider. Handling pencils will be Mahmud Asrar, who I'm unfamiliar with, but is currently doing X-Men Red. Rounding out the team, Esad Ribic is providing the cover illustrations and Matt Wilson will be doing color.
The first issue of Conan the Barbarian will hit stands in January. Here's a bit from the star talent:
"I've literally been preparing for this job since I was 13 and discovered my first Robert E. Howard Conan paperback in a used bookstore in my little hometown of Jasper, Alabama," said Aaron. "I devoured every Howard book I could find after that, and I've been making up Conan stories in my head ever since. Now I finally get to do that for real, alongside the amazing Mahmud Asrar. So this opportunity means an awful lot to me, and I'm cherishing every blood-splattered, spider-haunted second of it."

"Growing up, Conan was one of the first comic books I've read. It's partly responsible in making me a lifelong comic book reader," said Asrar. "In fact, it's the first book where I've noticed the names of the creators and that being a comic book artist was something I could do for a living. Now, years later, I get the chance to draw the book myself and do it with the amazing Jason Aaron. I couldn't be happier to tell epic new tales of the Cimmerian – to continue the legacy that will hopefully make a mark on readers, just like the original comics did for me."