Doctor Strange, Hulk, Silver Surfer, and Namor are back. Marvel is relaunching the original Defenders in a series of new books.
Defending
One of Marvel's lesser known teams, The Defenders were still a force to be reckoned with. Much more so than the more current team, which saw street-level heroes like Daredevil and Luke Cage on its roster.
This new team though, is all power.
Doctor Strange. The Immortal Hulk. Namor the Sub-Mariner. The Silver Surfer. You know their names and you know their powers…and you know them as the DEFENDERS! This December, Marvel's favorite non-team – the original Defenders – return in all-new stories!
Just what "stories" means is a question. Marvel is promoting a series of one-shots, culminating in a group-based single issue. Will there be more? We don't know right now, though Marvel is hinting at the possibility.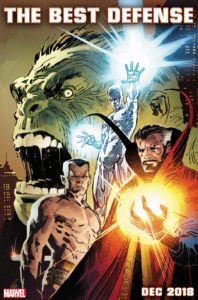 They're telling fans to "stay tuned to Marvel for more information". Right now though, we know that the following are on the way for this December.
IMMORTAL HULK: THE BEST DEFENSE
Written by AL EWING
Art by SIMONE DI MEO
NAMOR: THE BEST DEFENSE
Written by CHIP ZDARSKY
Art by CARLOS MAGNO
DOCTOR STRANGE: THE BEST DEFENSE
Written by GERRY DUGGAN
Art by GREG SMALLWOOD
SILVER SURFER: THE BEST DEFENSE
Written by JASON LATOUR
Art by JASON LATOUR
THE DEFENDERS: THE BEST DEFENSE
Written by AL EWING
Art by JOE BENNETT