If you're an X-Men fan, then today's your day. Marvel's mutant is expanding yet again in the One:12 Collective, as team leader Cyclops is ready for pre-order.
And he's Jim Lee-era!
With three different versions of Wolverine already out, and a Magneto announced, the X-Men are doing fine in the One:12 Collective. Now you can add one more figure that's almost here to the list with Cyclops. The X-Men's field leader, Cyke is available right now for pre-order on Mezco's web store (among other places).
As you'd expect, he includes all kinds of cool accessories and a neat riff on his Lee-era togs. A fan-favorite suit of Scotty's, it seems like that might have been an easy pick for Mezco, when figuring what costume to use here. Of course, like all of the One:12's comic based figures, this Cyclops suit looks a little different than it does on the printed page.
Mezco has seemingly added a little more detail to it, while chucking the yellow trunks. Marvel take note, this would be a very nice updating if/when you bring the proper Cyclops back into the Marvel U.
Oh, and pretty awesome too is that this figure has a light up feature! Not seen since the Toy Biz days of the 90s, we're finally getting another light up Cyclops, with an illuminating optic blast effect. All the snap on effects that he comes packed with apparently light up to, when attached to his visor. How cool is that?
Cyclops will run you a little more than your standard One:12'er at $100 USD. You can order up here.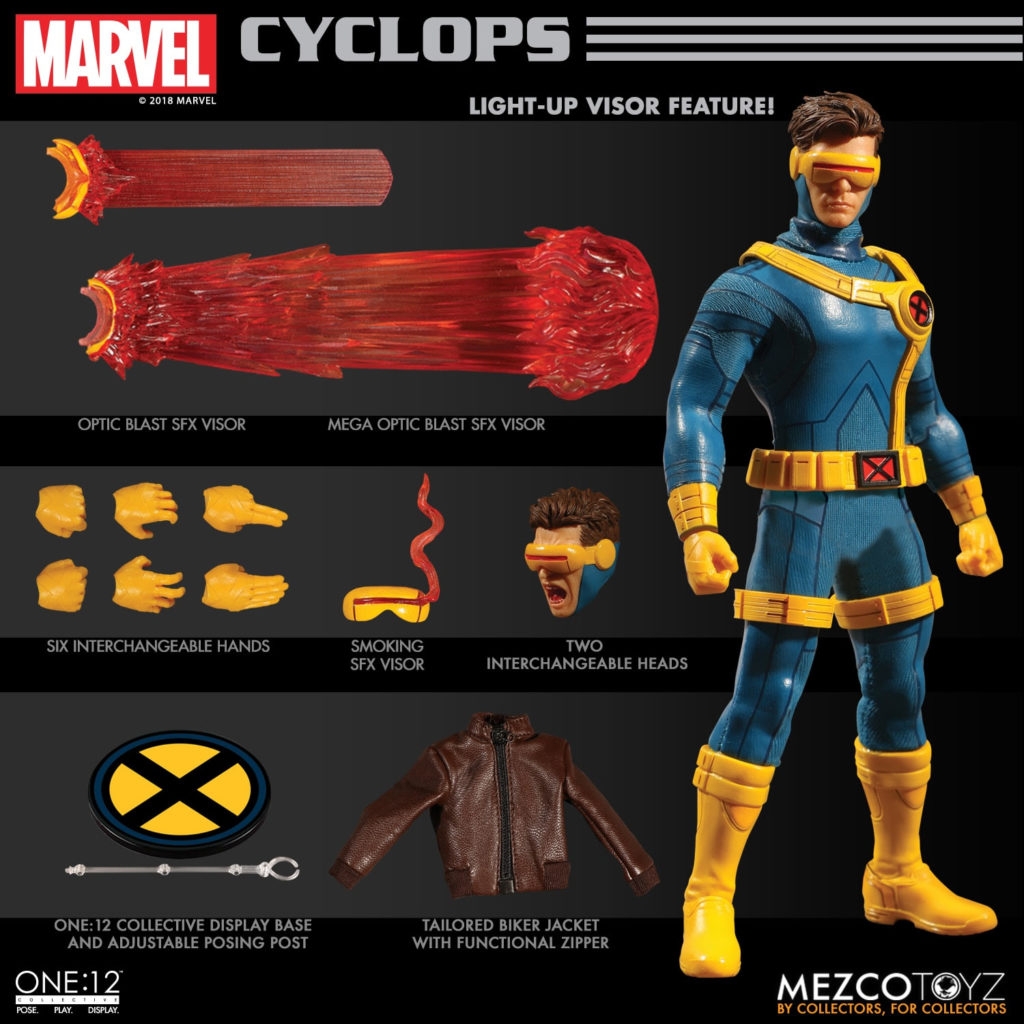 THE ONE:12 COLLECTIVE CYCLOPS FIGURE FEATURES:
One:12 Collective body with over 28 points of articulation
Two (2) head portraits
Hand painted authentic detailing
Approximately 17cm tall
Six (6) interchangeable hands

One (1) pair of fists (L&R)
One (1) pair of posing hands (L&R)
One (1) combat hand (R)
One (1) visor activation hand (L)
COSTUME:
X-Men issued mission suit
Utility belt with harness
Combat gloves
Leather-like biker jacket with functional zipper
Tactical boots
ACCESSORIES:
Four (4) visors

Standard visor
Smoking SFX visor
Optic blast SFX visor
Mega optic blast SFX visor

One (1) One:12 Collective display base with logo
One (1) One:12 Collective adjustable display post
Each One:12 Collective Cyclops figure is packaged in a collector friendly box, designed with collectors in mind.