Doom Eternal was revealed in all it's gruesome glory today at QuakeCon. Surprise – it's coming to Switch on day one (and it looks great).
Hell on Earth
Below you'll find the complete Bethesda presentation from today's QuakeCon. If you're here just for the Doomy goodness though, you're going to want to skip ahead to the one hour, eleven minute mark.
It's there that the Doom Team talks upgrades to the Doomslayer's armor, new weapons, new demons, and of course – shows off the gameplay. Oh, and apparently enemies sport real-time damage this time around.
Think that makes things all that much more gory (YES) ?
As a big fan myself, I am loving this to death. The new moves, especially the grapple, look to fit perfectly with the vibe of the new Doom series, and the new hardware is stunning. Is it me, or does that flamethrower just kind of pop out of nowhere?
The remade demons from Doom II mixed in with some very cool looking new arrivals is exactly what I would have wanted out of Doom Eternal too. Especially that very Doomslayer-ish looking one. And let's be honest, a demonic lightsaber is just all kinds of awesome.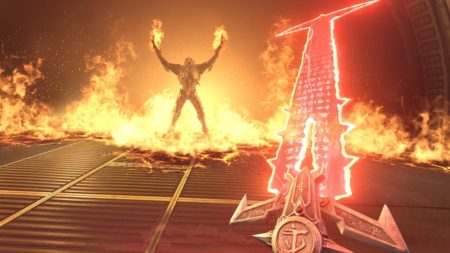 Then there's the invasion feature, where you can actually step into another player's game as a demon. Thankfully, it's totally optional. Sometimes you just want to play the game as it was meant to be played, solo.
But just that it's there means you'll be able to add a whole new layer of danger to your campaign should you want to.
I cannot wait to get some hands on time with Doom Eternal. Unfortunately, that's still a ways off. The game isn't set to hit retail till next year for the Xbox One, PS4, PC… and Switch. How awesome is it that Doom Eternal will be landing on Switch, day and date with all other platforms? Very nice iD and Bethesda, very nice indeed.