There's no denying that Sideshow Toys is maybe the single most impressive collectable maker in the industry. Check out what's new.
We're almost done, we promise! I know that SDCC was a few weeks ago at this point, but we had so much stuff to get through, that it's taking way longer than we had thought it would. We are int he home stretch though, and Sideshow's massive booth of awesomeness is a part of this final week of coverage.
There isn't much to say to get started here except that Sideshow is far and away one of the very best high-end collector shops on the planet. The company makes incredible pieces, some of which bust straight through that boundaries that you assumed existed for collectors. Seriously, almost everything they offer is of the "centerpiece" variety.
Let's dive in…
Sixth scale
One of Sideshow's best-known lines is its sixth scale series. This is where you'll find Marvel, DC, and Star Wars (and others) figures with unparalleled detailing and sculpts. Also offered through the company is Hot Toys incredible series of figures, where you'll find Marvel and DC movie figures, as well as an extensive collection of Star Wars.
Marvel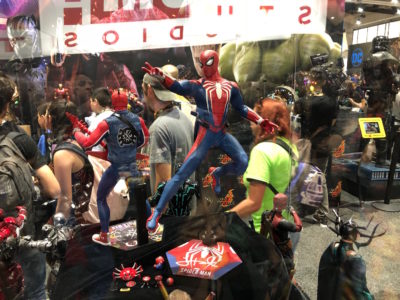 The Marvel stuff was heavy from both brands at SDCC, including a few surprises. The Spider-Man costume from the upcoming PS4 video game was present, as was Spider-Punk from the Spider-Verse storylines in the comics.
We also got to see a pair of new Captain America's come to life in figure form. Both the "concept" Cap and a new comic book-inspired version were in attendance. There was an awesome T'Challa on his throne from Black Panther, a lightning-infused Thor, and a new Luke Cage (also from the comics) too.
DC
The DC Comics offerings were a little slimmer than the Marvel ones. Okay, a lot slimmer. The movie stuff that was on hand was all Justice League, which we've seen multiple times already. I was hoping for a look at a Black Manta figure from Hot Toys, but there wasn't one present.
We did get to see two new DC figures from Sideshow though, in that redone Batman and Joker. Both look awesome and the Batman is a major improvement over the original, which was honestly pretty good already.
Star Wars
There wasn't a ton of new Star Wars either, though what was there was impressive. And that includes the new stuff from Sideshow's studio. That, by the way, would include the massive Jabba the Hutt and Throne "playset" and a freshly announced Lando in his Skiff Guard disguise.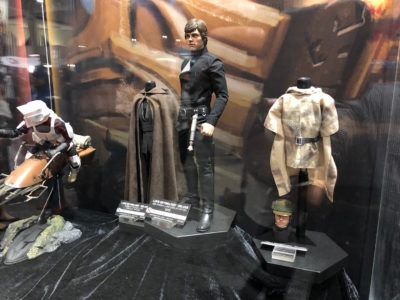 I also hadn't see the Jedi Luke figure in person, and I have to say I'm impressed with that one. I am very tempted to lay down a pre-order since he comes with basically all the gear to make every version of Luke from Return of the Jedi.
Statuary
The statues portion of Sideshow's booth was a stunner this year.
Some of this stuff was crafted in a scale that I honestly can't imagine actually having in my home. Not that I wouldn't want to, but actually collecting these would mean there'd be little room to move. And that's not to mention that there'd be nothing left in the old back account.
Still it's might tempting to dive in. The Robotech, Flash, Mumm-Ra, Lobo, and Doomsday statues are jaw-droppers in person. And that's not even getting into some of the smaller pieces like the Iron Studios stuff. Bane, (Danny Ketch) Ghost Rider and others are set in a much smaller scale, and should be way more affordable than the big boys.