One of the most vile villains to come out of the DC Metal crossover, The Batman Who Laughs is about to get his own mini-series courtesy of Scott Snyder.
Impressions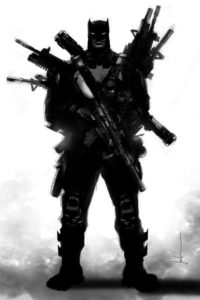 DCs Metal event was, as crossover stuff goes, one of the best f recent years. It was big, over the top, and presented some awesome new material. And this was stuff that ended up actually having an effect on the main DCU.
That mainly came because of the "dark multiverse", a portion of the DC multiverse that was previously unknown. It's more or less a forgotten segment of reality, where universes that should not exist both come-into and blink-out-of existence. There was a reason that this portion of the multiverse was portioned off from the rest of reality by the Source Wall. The Batman Who Laughs is a perfect example of why.
A twisted version of Batman infected by the Joker of his universe's madness, The Batman Who Laughs is pure evil. He almost succeeded in serving his dark god and bringing an end to reality… and he's still out there somewhere. From what Scott Snyder and the publisher showed off at SDCC last week, it seems like Batman might be ready to put an end to that.
Snyder will be penning the six-issue series, which will be illustrated by artist Jock. The first issue will land in November, and it certainly looks as though the Dark Knight is playing for keeps this time. There are no hints to the actual story yet, though it could simply be Batman hunting for his latest nemesis.
We'll have more as it's announced.