Shi creator Billy Tucci will be helming a fresh series for classic comic hero Miss Fury, focusing WWII's Nazi Joy Division.
Furious
I think it's pretty safe to say that Miss Fury is one of the lesser known newspaper strip heroes of decades past. She made her return in a classic hero team-up book a few years back though, and has apparently made a lasting impact.
So much so that Dynamite Comics has seen fit to add her onto their stable with a new title. And also, to bring in legendary comic creator Billy Tucci to helm it.
"Miss Fury: Joy Division will be set during the darkest days of WWII and will be in line with creator June Tarpe Mills' true vision that includes her original cast of characters and the intriguing storylines that laced them all together to create an icon that ran in the Sunday strips for over a decade," states author Billy Tucci.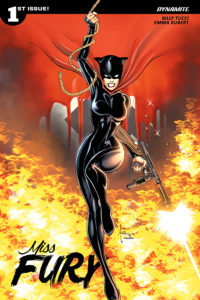 The main narrative for Joy Division will be centered on Miss Fury/Marla Drake and her Black Furies. They're an all-female team of heroes that Dynamite says will function like Inglourious Basterds of movie fame. So with all that, and the setting, you already know who the villains will be.
Dark days
Since this is set in WWII, Nazis will indeed be the main threat in the book, Miss Fury will find herself on a mission that might be brand new to many. That's because the Joy Division was a very real thing that isn't talked about much.
Basically, it surrounds a series of forced-prostitution brothels set up in concentration camps. That's a thought that's almost excessively disturbing, and should make for an extremely compelling backdrop for Miss Fury's action.
Aside from Tucci, Emma Kubert will be working on the series as well, and there will be a series of variant covers too. Look for work from Ken Lashley, Mike McKone, and Jan Duursema along with a blank sketch cover too.
All of the above will arrive on stands this coming October.