The fourth figure in the line based on the character, Logan has just been unveiled by Mezco Toyz. The figure features the civilian identity of the clawed X-Man, complete with alternate "Patch" head.
The best there is
Wolverine in his street clothes is a classic form for the mutant hero. While all of the superheroes in Marvel's universe appear in their store-bought duds from time to time, Logan in particular has made a habit of scrapping sans his superhero costume.
I remember many an X-Men comic where he was in pretty much the same exact outfit that he is here, in this new action figure. And there was a whole stretch where he wore an eyepatch too, with no real costume to speak of. That's reflected here too, with that cool alternate head.
Of course, you also get plenty of other accessories with this latest One:12 figure. Those include clawed hands, a leather-like jacket, and a cowboy hat. Where would Wolvie be without that? He also includes a pair of dog tags, but they honestly look kind of enormous. Let's hope Mezco finds a way to make 'em a little smaller for the final release.
Speaking of, Logan here will be shipping out in the November to January time frame, this year into next. He's up for pre-order right now, and will run you $80 USD.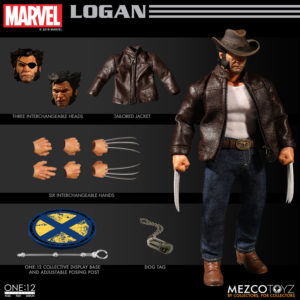 THE ONE:12 COLLECTIVE LOGAN FIGURE FEATURES:
One:12 Collective body with over 30 points of articulation
Three (3) head portraits
Hand painted authentic detailing
Approximately 16cm tall
Six (6) interchangeable hands

One (1) pair of fists (L&R)
One (1) pair of clawed fists (L&R)
One (1) pair of posing hands (L&R)
COSTUME:
Tailored tank-top
Belt with western-style buckle
Jeans
Leather-like jacket
Cowboy boots
ACCESSORIES:
One (1) a dog tag
One (1) One:12 Collective display base with logo
One (1) One:12 Collective adjustable display post