Linksys' latest router is aimed squarely at gamers, particularly Xbox One gamers. It promises an experience tailored to the gamer, prioritizing downloading and streaming to the console over everything else. 
Routers can be a mystery
Routers in general, have been a mystery to me… pretty much since they were made available to the general public. Don't get me wrong though, I make (and have made) ample use of them. I've had one such device set-up since they went on the market, and I adopted a wireless router as soon as those were out there too.
Simply put, they're almost a necessity if you're a big internet user with multiple devices. Today's computers still use an ethernet port, but they pretty much all have WiFi built in too. Heck some of those "computers" aren't even traditional computers. I know plenty of people who use things like the Surface and iPad as their main machine, and plenty of tablets don't exactly come with ethernet ports standard.
Then there are gaming consoles. Much like computers, all gaming machines come with both corded connectivity and WiFi built in. So you could technically run a cable to them all, including the Xbox One. But really, it's way easier to connect over the air. There isn't much of an argument there unless you're so hung up on lag that… well unless you're seriously hung up on lag.
And that's the main selling point with the WRT 32X Gaming Router. Linksys' latest claims to scale preference to specifically the Xbox One over everything else. So if someone in your house is downloading something on another machine, this little guy will give your Xbox top billing over that. Pretty neat.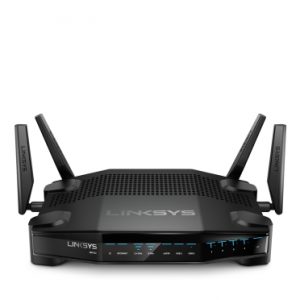 So does it work?
In a nutshell, yes. And that can be tested pretty easily.
Linksys recommends getting a game of Battlefield 1 going, since the game actually can display latency in real time. Well, the long and the short of that one is that I don't have Battlefield 1. But it's actually not all that necessary, since the router's online interface can tell you almost everything you need to know.
The interface is excellent too, and extremely easy to log into and use. Not that it's all that different from any other router control panel out there, but it's worth saying anyway. I will say though, that it looks a lot better than a few that I've used in the past. Much like the router's physical looks, the online controls are uncluttered, and a little plain. That's a very good thing, since a lot going on isn't something that you really need when you have to change up some router settings.
But let's get back to what I was talking about. Once you log in, you'll be able to access a Prioritization Page. It's there that you can actually set your WRT 32X' traffic priorities. Basically, using a simple list, you can set the importance of your devices. By default, the Xbox family of consoles sits at the top of that list, though you can de-prioritize your Xbox One or One X at will.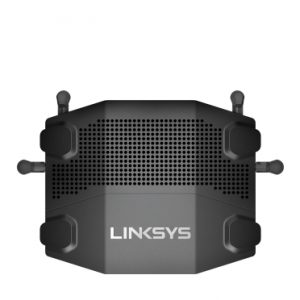 When you do that, you'll see the console get the same treatment as all your other stuff. That's to say that it'll battle for ping with your iPad, running YouTube vids. But left as is? That'll get you a smooth ping on your Xbox, even if you're streaming a full season of Daredevil elsewhere. Sorry Matt.
Easy setup
Oh, and while I'm talking about online interfaces and such, I should mention the ease of use that the WRT 32X offers. This isn't unique to the unit either, but it's totally worth saying that you don't really need a PC or Mac to set it up, or even set those priorities. A smart phone or table will do just fine.
It's also pretty quick. I was able to get things plugged in and running in just a few minutes. And logging into, and finishing up with, the interface took a handful of minutes. That includes  playing with the settings a bit.
So I don't think it's a stretch at all to say that pretty much anyone could get this going in no time flat.
But how about that range?
Yes, the WRT 32X has a really neat gimmick in the Xbox connectivity thing. Yes, it looks pretty cool, and yes it has a very easy to use set of controls. But there's something even more impressive that I really want to bring up. It's the range.
Holy you-know-what, does this thing have range.
I have three floors plus a basement office that I have to have covered with connectivity. And guess what? The WRT 32X covers almost all of it, sans range extenders. I had previously been using a pretty hight end D-Link machine for my WiFi, and I thought I had it pretty good.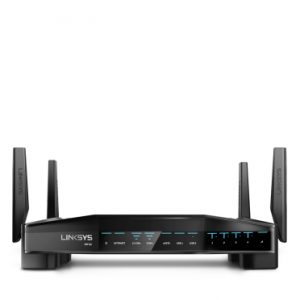 With that router though, I had a pretty beefy range extender on the third floor, and a small one in the basement. My router is on the ground floor by the way, just so you get a picture of what I'm talking about.
So what do I have now?
The WRT 32X covers all three floors of the house all by itself. And that includes quite a few devices that my family is wont to use at any given time. It is awesome, and I'm not exaggerating in any way. I have almost as much connectivity on the top floor as I do in the next room over.
The only place that maintains difficult is the basement. It's not a huge deal, since I already had the range extender there, just kind of annoying. God knows what's in the floor that's blocking a signal that (for all intents and purposes) is only a few feet away. Oh well, can't have everything, and I certainly don't blame the Linksys for it, since the D-Link was just as inept in that regard.
I actually can't ding this bad boy for anything. It's one of the best routers that I've ever had the good fortune to make use of. It's just outstanding, and I cannot imagine taking my current setup apart for any good reason, any time soon.
If you're looking for a wireless router, then you're going to want to have a peek at the WRT 32X. That's doubly true if you're an Xbox gamer.
WRT 32X wireless router
Release date: Available now
Produced by: Linksys
Connected
It's not flashy looking, but it gets the job done - 90%
The prioritizing is pretty nice, if you're an Xbox fan - 90%
Interface is easy, and works really well - 100%
The signal strength is incredible... except in my basement - 99%
There's nothing to dislike about the WRT 32X. The little router from Linksys absolutely coats my house in wireless signal, has a nice simple look, and an interface that could not be easer to use. Throw in that it can prioritize your Xbox One over everything else, giving you even ping even in the face of video streaming (etc...) and you have one awesome machine.