Spider-Man joins Mezco's One:12 Collective series with a figure that's every bit what you'd expect. A heaping helping of great accessories is highlighted by an awesome sculpt and terrific costuming.
The original web-slinger
This isn't the first Spider-Man One:12 figure. That honor actually went to Miles Morales already, with a variant Spider-Man figure that saw release last year. It was an exclusive though, to SDCC, so you're forgiven if you didn't see it. That figure joined a few other variant One:12's that managed to beat the "main" versions to fans. Tiger-stripe Wolverine and classic-duds Red Skull are a part of that phenomenon as well.
This however, is the main event for fans of the wall-crawler. And this classic red and blue, Peter Parker Spidey is as cool as One:12 figures come. Actually, even cooler than usual since he has a very specific posing option that's included in the box.
We'll get to that though. This Spider-Man figure is pretty loaded, so there's plenty to discuss.
Spectacular suit
Spider-Man's superhero duds have been through something of a wringer as of late. The Marvel Cinematic Universe version of the character is tech-ed up to a ridiculous level, and the new video game for the PS4 is set to cover the red and blue with a monstrous white spider. Though it's ganging more and more fans, I think it might be the worst Spidey-suit of all time.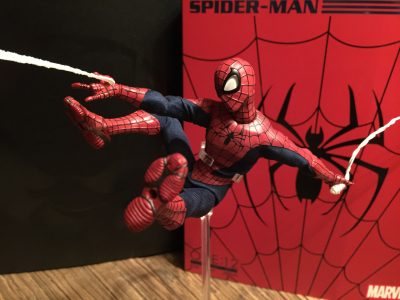 Even the Spider-Man comics got "creative" over the last few years, adding a glowing spider emblem (no thanks). Mezco's offering for the One:12 Collective though, is blissfully old school.
Dressed in his classic blue and red, with black webbing, this is Peter Parker as he's appeared in Marvel Comics for almost 800 issues of Amazing. It's classic, it's iconic, and it's exactly what you want to see for a first run figure if you're a Spider-Man fan. And hey, it's not like we're not getting a black costume too. That one'll be along later this summer as a Previews exclusive.
Notable here however is that the underarms aren't webbed, which I greatly prefer. It's actually the character's original look, but I find the pit-webs kind of silly looking. Also notable is that Mezco took basically no license with this costume, except one thing.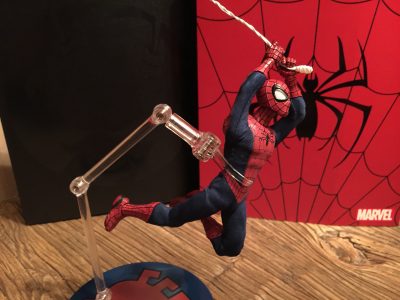 Spidey's shoes are… shoes. Well, sneakers actually. Taking a page out of the Amazing Spider-Man movies, this version of the wall-crawler actually has sneaker-like soles worked into his "boots", which means they don't have flat bottoms. It looks cool, and keeps with the comic book realism that the One:12 embodies.
While most of this suit is fabric too, the boots, gloves, and mask are not. They're sculpted, hard plastic, and look terrific.
Amazing accessories
If there's one thing that you might've thought this figure wouldn't have, it's probably accessories. After all, how many can you legitimately include with a Spider-Man figure. Unlike Deadpool, who's got an arsenal in the box with him, Spider-Man really only has his webs. But that's actually where Mezco's magic comes in.
Spidey includes a whole collection of webbing, all serving a different purpose. He's got short web "shots" so he can look like he's firing off some impact-webs, and also a bendable web line that he can "swing" from.
There are plenty more too. Each web gives Spidey a specific look, most right from the comics. You'll find that they all stay in place too, when you display this figure. the reason for that is that you actually pop off one of the figure's hands, slip on a connective ring that's attached to the web you want to use, and then re-attach the hand.
That way, nothing is going anywhere, and you can be assured that your display is going to stay as you intended. Cool stuff, especially since most Spider-Man figures go with a peg system that usually lets the web line fall right out.
You'll also note the abundance of hands included. If you're a One:12 collector already, then that's nothin new, but it's pretty impressive if you're new to the line. In the box are hands for punching, grasping, and thwip-ing. Yes, there are a pair for wall-crawling too, and that plays into the most interesting accessory included.
Spider-Man, master of magnetism
Yes, there's a magnet in the box. On one side, you'll find this accessory capable of attaching to metal surfaces, and on the other is a clip. It's with that that you can affix Spider-Man to look like he's scaling a wall. It's a pure "extra" as there's a standard One:12 stand in the box as well, complete with a flight/jumping attachment. But as throw-ins go, it's pretty nice.
I actually have no place to use it however, since it didn't stick to my fridge. Oh well.
Web of poseability
This is pretty standard for the One:12 too, but I'll mention it anyway – the articulation is awesome on this figure. Spider-Man can be posed into almost any classic, web-swinging posture you can think of. Almost. Note that not all of the McFarlane poses are possible, but you can get solid approximations going for most of them.
In fact, if you have a favorite Spider-Man pose, you can probably pull it off with this figure. It just looks dynamic on the shelf, swinging over the heads of the more "grounded" One:12 figures, attached to that super-cool Spidey base. Good stuff.
Oh, and as you can probably see from the accessories shot above, there are two head sculpts in this pack. Each has a different look fo the eyes. There's one thats really old school with the very small eyes, and one that's more typical for Pete's mask. I must admit I'm a little bummed that the very large eyes aren't included. That's a more McFarlane look as well, and my personal fave. But really, I can't complain too much.
This is a gorgeous figure, a great addition to the One:12 Collective, and any Spider-Man fan's shelf. Mezco is on a serious roll.
One:12 Collective Spider-Man
Release date: March, 2018
Produced by: Mezco Toys
Line: One:12 Collective
Web of Spider-Man
Excellent choice of costume, awesome detailing - 100%
Great accessories, but I wish there was a larger eye choice - 93%
The usual poseability, cool stand, and even a magnetic clip for wall-crawlin' - 95%
In a series of great action figures, the One:12 Spider-Man stands out. This is almost a kind of "event figure" (not that that's a thing), in that it gets everything right in a toy representing one o the greatest superheroes of all time. Top notch accessories, sculpting, costume, and articulation make this Spider-Man figure one that fans should not miss.