One of the biggest fan-favorite Spidey artists from the 90s, Mark Bagley is back on Amazing for a variant to issue #800. Starring Spider-Man and the Red Goblin, Bags' style is sure to bring back a few memories.
Seeing red
Did you know that Mark Bagley actually co-created Carnage? Well, he did. After taking over for Erik Larsen back in the early 90s, Bagley penciled some of the biggest Spidey arcs of the day, including Venom: Lethal Protector.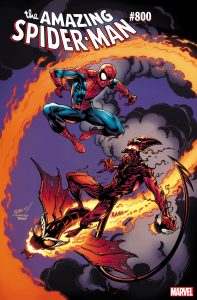 After leaving Marvel, he returned for a monster run on Ultimate Spider-Man with Brian Michael Bendis, and has worked for the company here and there ever since. Now he's back on Amazing, albeit for a variant cover. And if it sounds like I might be a little biased towards the artist, it's because I am.
Bagley's art bridged Amazing out of the Larsen era, and as a fan I could not have been happier. He definitely had his own flair, but his work was in line with Larsen's, and his interpretations of Spidey and his rogues gallery was flat-out cool. Plus, he was deep into one of my favorite Sinister Six stories of all time (I still miss that white suit on Otto).
Bagley joins a stable of additional pencilers who are providing alt-art for the historic book's cover too. That's understandable as it's the first Marvel comic to hit the lofty 800 issue plateau. It's also the issue that'll be ending writer Dan Slott's ten year run with the wall-crawler. That in and of itself is pretty huge.
You can check out the already announced John Romita cover art here, and read a little more about this particular issue here. Outside of all of the above, it's sure to be a memorable capper to the Red Goblin arc.