Writer Dan Scott takes his penultimate bows, as he departs Amazing Spider-Man with issue #801. This promises to be a pretty wild final few issues for him though, as it's "final confrontation" time for the web slinger and Red Goblin.
Seeing Red
"AMAZING SPIDER-MAN #800 is the biggest single-issue story I've ever worked on," shared editor Nick Lowe. "It's 80 pages of story! And Dan and Stuart are being joined by some very important past AMAZING SPIDER-MAN artists to bring it to you in the coolest way possible! Everything you've loved about Dan Slott's run on this book is on full display in this monumental issue that will have you shivering, crying, cheering, laughing and wishing it would never end!"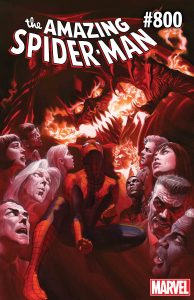 Woo. Hyperbole-central right there. However you might feel about Slott's Amazing Spidey run though, this is an issue that you might not want to miss. It's Amazing Spider-Man #800 after all, and that's an historic moment no matter what manner of comic fan you might be. On top of that, Marvel is promising not only an "ending" to the Red Goblin storyline, but also "the biggest Peter Parker and Norman Osborn story of all time". So it's a big issue.
That said, I'm sure there are some that will be very happy to see the writer go as of issue #801. Slott, a self-described lifelong Spidey fan, has been somewhat controversial in his lengthy run. I don't think there's any denying that. His "Superior Spider-Man" and clone saga redux weren't all that well received, even from fans who didn't miss an issue.
I read most of both arcs, mainly because I'm a big Spider-Man fan. But honestly I can't say I cared for either of them all that much. That's not to say that that they were all bad. The clone story at least gave us back Ben Reilly and Doc Ock. That's kind of neat.
Also neat is that this is the first ever Marvel comic to hit 800 issues. Again, it's a big moment for the company, but also for comics in general. Spidey has stood the test of time, through both good and bad. For that alone, this one's a "buy" for me.
Also, that's one hell of an excellent cover. Pick up The Amazing Spider-Man #800 when it swings onto racks this May.