Looks like the time of Marvel's moon-bound heroes (and villains) might not be too much longer. The publisher has announced a brand new event coming this year titled "Death of the Inhumans".
The end of Inhumanity?
Honestly, probably not. Though Marvel's latest event does have a ring of finality to it, not to mention a deathly promo image. If it is the death of the Inhumans though, as temporary as that might turn out to be, it's understandable.
Marvel Comics eschewed the X-Men over the last decade or so for the Inhumans. A niche group in the publisher's superhero universe, the Inhumans were never even close to being as popular as the very similar X-Men. Essentially Free/human hybrids with differing powers, the Inhumans lived on the moon in a domed city. They were pretty neat, but just didn't have that cool factor that the X-family had in spades. And since they were so similar, the Inhumans kind of faded into the backdrop.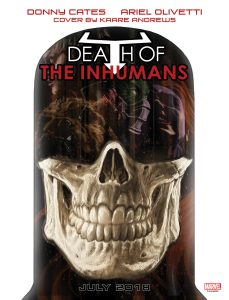 (warning: the following is all rumor. Pretty much)
But when Marvel (and Disney) couldn't use their mutants in the big screen MCU, they went full-bore the way of the Inhumans. Announcing a feature film, a new ongoing, and placing the characters into massive Marvel event series', it seemed as though Marvel thought the sky was the limit. Turned out though, that the sky was much lower. Much, much lower.
The bell tolls
The movie fell apart and was canned, with a TV series taking its place. When the show was announced with a team shot of the main characters, it was derided unmercifully and that carried over to the airing, which fell flat. At this point I'm pretty sure you're safe to say that you'll never see another season.
As for the comic, as far as I know middling sales were the high point. As for the X-Men, they came back with a series of new books, action figures, and maybe integration into the MCU (thanks to that Disney/Fox deal). So with that in mind the Inhumans pretty much are out of time.
And it seems like that's what we'll be seeing play out in Death of the Inhumans this summer. Helmed by Donny Cates and Ariel Olivetti, and with a cover by Kaare Andrews, the book is expected to hit in July.