Not a dream, not an imaginary story, the Fantastic Four are back. The super-team will return to Marvel's comic book universe this August in a brand new series.
Call the four
It's been a while. The Fantastic Four were effectively dismissed from a monthly series back in 2015. While the team played a big part in Secret Wars, it was fractured in that event's wake. And of course, there were probably not entirely creative reasons for that.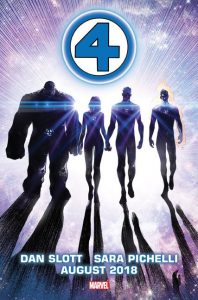 It was widely rumored (maybe a little more than a rumor) that the FF being "forgotten" was due to Fox owning the film rights to the characters. It's a "rumor" that's even pointed out by the New York Times article that's exclusively announcing the team's return today.
But that's all in the rear-view mirror. Right now, all that matters for FF fans is that Ben, Johnny, Sue, and Reed are all coming back this summer. According to Marvel (and that NYT article) the crew will return in a new series (with Legacy numbering). There'll be a veteran scribe on board for it to, with Dan Slott helming. The art meanwhile will be provided by Sara Pichelli.
The book has nothing in the way of details at present beyond that. Though we do know that issue #1 will hit this August, presumably as a part of Fresh Start. That's Marvel's latest publishing initiative, which returns the company's lineup to the more iconic heroes of old. Not that all of the newer heroes will be falling to the wayside, it's just that Marvel is wisely bringing their most popular and salable heroes to the fore once again.
This is set to be a pretty big event for Marvel Comics, so stay tuned for a lot more on it. In the meantime, you can at least catch up with The Thing and Torch in their current monthly, Marvel 2-in-One.
Source: New York Times