No Man's Sky is getting a third jumbo-sized update for the PS4 and PC in the form of NMS: Next. Oh, and it's also coming to the Xbox One.
Everyone's sky
"We are calling this No Man's Sky NEXT because it is an important next step in a journey for No Man's Sky, for Hello Games and for our devoted community." said Sean Murray, founder at Hello Games. "Each update for No Man's Sky has been more successful than the last; this was especially true of our last update Atlas Rises. It emboldens the team to push ourselves further. This journey is far from over, and it's exciting to be working again on something you know will surprise people."
You can't say that Hello Games has been lazy. Even though No Man's Sky was a bit on the divisive side when it launched, it's become something else entirely. It's at the point now where it's pretty much what everyone was looking for ward to originally. And that's in no small part because developer Hello Games has never stopped working on the experience.
A total of three massive updates (expansions?) have seen release for the game, with Foundation, Pathfinder, and Atlas Rises all hitting in the last 18 months. But now the space-faring title is moving in the next phase of its life with… Next.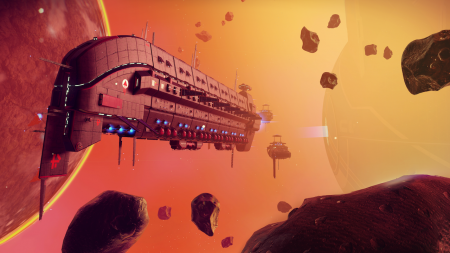 So what is No Man's Sky: Next? Well, it's definitely something, that we're sure of. Just what that might be though, aside from an expansion onto the Xbox One, we're not sure. You can probably bet on the new download having more of what made NMS so much fun in the first place though. And by that, I mean -well- more.
No Man's Sky Next will be hitting the Xbox One courtesy of 505 Games, though it'll also be arriving for the PS4, and the PC. Expect all of those releases later this year. And if you have a copy of the game already, you bet it'll be a free download.