Arguably the two most popular villains in Ninja Turtles history, Bebop and Rocksteady are headlining their own mini-series from IDW. The baddie-bros are heading cross-county, and you better believe there's gonna be trouble.
Roll out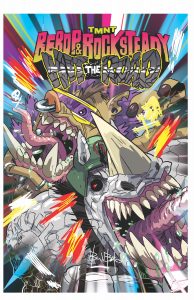 This is set to be the second mini-series from IDW starring the dup of Bebop and Rocksteady. The first was Bebop & Rocksteady Destroy Everything, which arrived from the team of Ben Bates and Dustin Weaver. And guess what? The team is back at it for Bebop & Rocksteady Hit The Road.
Co-writer Ben Bates expressed his enthusiasm for returning to the characters, saying, "I have a clear memory of playing with my Rocksteady and Bebop figures as a kid, studying all the details that were unique to each of them, what seem to define their individual personalities and overall thinking how cool as characters they were. It's crazy to me that I still get to play with these guys as an adult; I hope it never stops! Turtles forever!"

"I feel so lucky that Ben and I have gotten to make a contribution to the TMNT universe with these B&R stories," said Dustin Weaver. "Hit the Road is a natural continuation of what we did in Destroy Everything. It feels just as wild and fun. I kind of love these guys."
IDW has quite a run with the Turtles going, having published books branded with the latest (but not the upcoming) version of the heroes. It seems like there's no slowing down either, if this new mini is anything to go by.
Watch for Bebop & Rocksteady Hit The Road #1 to arrive this August, complete with variant covers by TMNT co-creator Kevin Eastman himself.