Is this the end of the Transformers comic book universe from current publisher IDW? It kind of looks like it is, as Unicron is coming to town, and he's got his sights set on Cybertron and Earth.
The coming of Unicron
In this bi-weekly event book from IDW, the legendary Unicron finally arrives in the Transformers comic book universe. If you know who that is, then you know what that means – total annihilation. From John. Barber and Alex Milne, the book will indeed bring the publisher's Transformers universe to a close.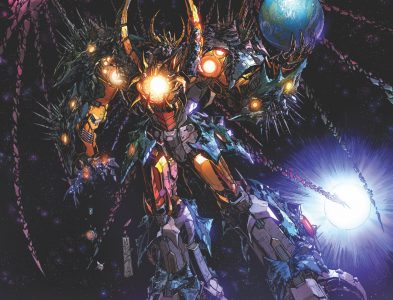 "TRANSFORMERS: UNICRON is a culmination of the years of TRANSFORMERS comics I've been a part of… and the conclusion of one of the longest continued narrative in TRANSFORMERS history" said Barber. "This is a story of heroism in the face of impossible odds; of a reckoning for an entire universe. I couldn't be luckier than to have Alex [Milne] right here with me on this—if you know Alex, you know nobody puts more into the TRANSFORMERS than he does, and nowhere before has he drawn drama, action, and pathos at this scale. Tying it all together is the incredible palette of Sebastian Cheng. We've never held back before on our TRANSFORMERS comics, but this time we're pushing ourselves—and each other—harder than ever."
Closing the Transformers universe up would be a big enough story, let's be honest. But it feels like there's more to this than is being said. Remember that IDW has built out this comic universe in a big way. Just last year, the Transformers joined a version of GI Joe (the main book is a separate thing), MASK, Visionaries, and more to create a shared Hasbro Universe.
So does this event mean that the whole Hasbro-verse is going to be folded up?
IDW isn't saying right now, though I have to believe that if the Transformers are vanishing, then so is everything else. That's kind of the connotation too, which might mean that Hasbro is leaving the publisher all together. So some interesting stuff there too.
As for Unicron though, watch for issue #0 to arrive this Free Comic Book Day, May the 5th. After that, you'll have to hang on till July for the official start of the mini-series, which will kick off with a slate of variant covers from talent like Andrew Griffith, Nick Roche, Bill Sienkiewicz, and Francesco Francavilla.