A change of name, and several reveals this week hit the news for Atari. No longer is the company's mysterious new console dubbed the Ataribox, as it's now the Atari VCS.
Atari returns
I have to admit, I really don't understand what the newly named VCS is. Is it a retro console? No, we know that it's not strictly that at this point. It kinda-sorta sounds like a mix of the old and the new, and that's what we're talking about today. Well, in terms of looks anyway.
Atari didn't reveal much about functionality this week, but they did talk about the logo and the design of the console. They also talked controllers, which you can see will include a classic Atari stick and a more traditional gamepad (which will have motion controls).
Basically though, this week's press release was all about that design.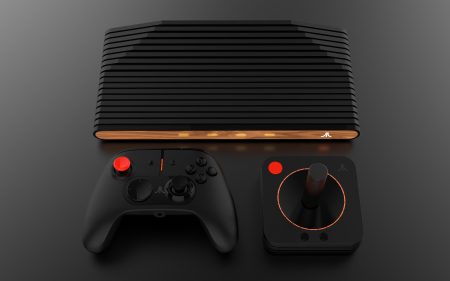 Crafted to resemble the classic Atari 2600, the Atari VCS (Video Computer System) carries through the industrial look that the company made its name on back in the 70s/80s. Honestly, it's a good move, and plays on the main draw of the name. After all, Atari hasn't been a major force in the video game industry since the 90s' Jaguar. Bringing back the retro feel is kind of a necessity. And that goes for the new name too, which also packs a classic punch.
"Every person at Atari and every partner involved with the new platform is just as fanatical about the brand and its heritage as our biggest fans are," explained Michael Arzt, Atari COO of Connected Devices. "With the Atari VCS name, we know how important it is to get everything completely right and that's why we briefly paused an imminent launch late last year. It was a difficult decision with the countdown underway, but we weren't willing to go forward with even one thing out of alignment. We hope that Atari's fans appreciate our extreme attention to detail and are as excited about the Atari VCS as we are."
So when can you get your hands on a VCS? That's not so clear just yet. The company says that they will be in attendance at this week's GDC conference, and presumably there will be more announcements coming out of that. One of those should be the pre-order date, which might be some time next month.