Two lead-ins, a kickoff issue, and then a four part series (each with its own theme) will segue into what looks like the official return of Wolverine to the Marvel Universe.
The best there is
We all know by now that Logan, the real one, is back. Freed from his adamantium prison, presumably via the Infinity Stone he's carrying, Wolverine has been skulking around behind the scenes in the Marvel U. He's been showing up in "after credits" scenes in some comics from the publisher. When you add all the extra scenes up, they tell one story.
But that's not the actual story of Wolvie's return. Nope, not by a long shot, since there's a whole "Hunt" mini-event starting up. Technically it started already, in the pages of Marvel Legacy, and then continued in the just-released Infinity Countdown.
That's kind of the lead-in though, since the main even starts next month.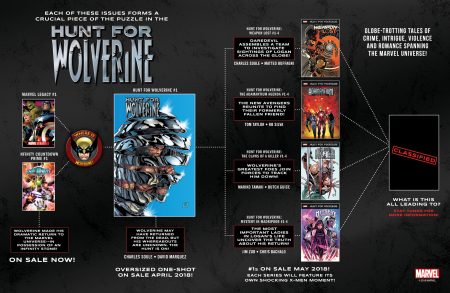 Logan's return was just the beginning – the opening chapter of a story that will touch all corners and all characters of the Marvel Universe! Dive into all the excitement in the HUNT FOR WOLVERINE one-shot this April, and then be sure to follow all of the action with WEAPON LOST, ADAMANTIUM AGENDA, CLAWS OF A KILLER and MYSTERY IN MADRIPOOR.

Featuring thrills and chills for all X-Men fans as Wolverine's past comes back to haunt all our merry mutants, each unique story harkens back to their old school adventures – with each featuring a different shocking X-Men moment that no fan will want to miss!
The last issue of Hunt for Wolverine is still an all-around mystery, with no clues from Marvel as to what it'll entail. I assume it's the full on return of Logan, but you never know.
Here's the official rundown of the four one-shots and kickoff issue:
HUNT FOR WOLVERINE #1
Written by CHARLES SOULE
Art by DAVID MARQUEZ
Cover by STEVE MCNIVEN
On Sale

4/25/18

HUNT FOR WOLVERINE: WEAPON LOST (#1-4)
Written by CHARLES SOULE
Art by MATTEO BUFFAGNI
Cover by GREG LAND
On Sale

5/2/18

HUNT FOR WOLVERINE: ADAMANTIUM AGENDA (#1-4)
Written by TOM TAYLOR
Art by R.B. SILVA
Cover by GREG LAND
On Sale

5/9/18

HUNT FOR WOLVERINE: CLAWS OF A KILLER (#1-4)
Written by MARIKO TAMAKI
Art by BUTCH GUICE
Cover by GREG LAND
On Sale

5/16/18

HUNT FOR WOLVERINE: MYSTERY IN MADRIPOOR (#1-4)
Written by JIM ZUB
Art by THONY SILAS
Cover by GREG LAND
On Sale

5/23/18