Mezco's first take on DC Comics anti-hero (and future wife of the Dark Knight) Catwoman is ready for pre-order. One of the few female characters in the line, Selina is looking fantastic.
Femme fatale
Mezco was recently asking for "favorite female" characters on social media, and that's a good thing. Mainly because I assume it means that there are more female heroes and villains on the way. I kind of really want to assemble an X-Men team, so I need a 90s Jean and Rogue at the very least.
As it stands right now though, we've got a movie Wonder Woman figure hitting some time this year, and this lady. As the first female character from the DC comics universe joining the One:12, she's looking awesome.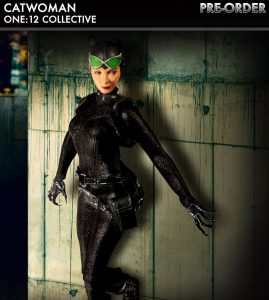 Catwoman is set to arrive in the September to November timeframe (this year), and will include:
One:12 Collective body with over 30 points of articulation
Three (3) head portraits

Smiling head
Snarling head
Unmasked head

Hand painted authentic detailing
Approximately 16cm tall
Eight (8) interchangeable hands

One (1) pair of fists (L&R)
One (1) whip holding hand (R)
One (1) "come here" hand
One (1) pair of posing hands (L&R)
COSTUME:
Tailored stretch catsuit
Waist belt with tool kit
Mid-calf work boots
ACCESSORIES:
One (1) pair of goggles (Fit both masked heads)
One (1) backpack (removable)
One (1) whip
One (1) waist belt with cat burglar tool kit (non-removable)