Kroenen has Bruttenholm and Sandhu in a trap, and there are still more discoveries being made. Learn what is in store, in RASPUTIN: THE VOICE OF THE DRAGON #4.
If you missed it, our coverage of Rasputin #1,
Rasputin #2 and Rasputin #3 are available.
RASPUTIN: THE VOICE OF THE DRAGON #4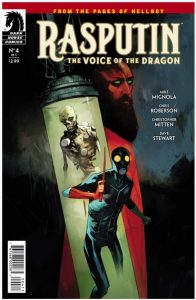 The Third Reich are still searching for the tomb of the Grand Master Albert Mayhew of the Heliopic Brotherhood of Ra. They have determined it's location, they now need to uncover it. Upon creating an opening in the tomb's wall, they are almost immediately attacked by things they cannot fathom. Dogs unlike anything they have ever seen. Automated, mechanical, unrelenting guards watch over their former master in his afterlife.
Herr Kroenen
Backed into a corner, Kroenen has plans to add Bruttenholm and Sandhu to his army of science experiments. Kroenen has spent years of his life, trying to uncover the secrets of life. How to preserve, harness and extend it. That is no simple task, so you can only imagine the horrific things that must have occurred to learn those secrets. Humans and animals alike, slaves to the will of Kroenen and the Third Reich. Just imagine a zombified militia, what a force that would be.
A.N. Sandhu
We know Sandhu has a few tricks up his sleeve, and knows just when to use them to get out of a jam. Able to break free of his restraints, Sandhu and Bruttenholm are able to escape the clutches of Kroenen's zombified warriors.
Bruttenholm shows just how new he is to the dark mystical world when they come upon the entrance to the tomb. Once inside the altar, they find more than they could believe would be in a hidden tomb. Scaffolding, statues, artwork and guard all around the tomb, with a strange altar in the middle of the room. Certainly that altar couldn't be for anything important?
Just as it seems that Bruttenholm and Sandhu have discovered what is at play, the tables are turned on them yet again. You'll have to pick up a copy for yourself if you want to see what I mean.
RASPUTIN: THE VOICE OF THE DRAGON #4
Writer: Mike Mignola, Chris Roberson
Artist: Christopher Mitten
Colorist: Dave Stewart
Cover Artist: Mike Huddleston
Into The Depths
Plot - 84%
Writing - 93%
Art - 81%
Sandhu has skills, but they are no match for Rasputin, or are they? And who is Rasputin referring to as the Master? We'll have to wait until issue #5 to find out.