Rasputin sits among the Third Reich in Paris. A dead man's soul has been revived in a new body. What is Rasputin up to now? Learn more in RASPUTIN: THE VOICE OF THE DRAGON #3.
If you missed it, our coverage of Rasputin #1 can be found here.
If you missed it, our coverage of Rasputin #2 can be found here.
RASPUTIN: THE VOICE OF THE DRAGON #3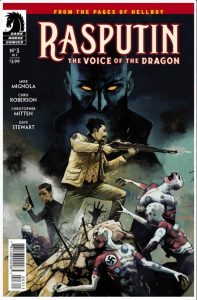 Rasputin is known for his draw to the darker arts, and with the reach of the Third Reich, he could easily become unstoppable. What we do not know yet, however, is what he is after.
With his oversight, the Reich has been able to raise the spirit of a deceased man, that claims to have knowledge that Rasputin wants. Foolishly, he decides to play hardball with the Reich over whether or not to hand over the information.
Bruttenholm Trails
Professor Bruttenholm, always one step behind, but never far enough for comfort, parachutes into France as well. Meeting with a man named Sandhu, they begin to make their way toward Paris when met with german guards. Sandhu pulls out some mysterious magic and resolves the issue almost as quickly as it began.
We learn that Sandhu has been tracking multiple variations of these mysterious phenomenons throughout the years, some of which were as high-profile as the cult of the Black Flame.
One figure worth mentioning seems to be a man named Kroenen, a nazi scientist. Sandhu has seen him a time or two, and knows him to be trouble. If the stories are true, with Kroenen leading Rasputin's experiments, the world itself is in for a whole heap of trouble.
Death Defeated?
Sandhu and Bruttenholm find their way into the morgue of what appears to be an abandoned hospital. With a fright, they find dozens of bodies attached to lead wires and miscellaneous implants in their midsections. Their information was correct alright: Kroenen has indeed been at work under the guidance of Rasputin's Third Reich influence.
You can guess for yourself what occurs when someone happens to flip on the power in the morgue. for your own curiousity however, you should pick up a copy of Rasputin: Voice of the Dragon #3 and see for yourself.
Thoughts
With Rasputin's ideals and Kroenen's science at work together, nothing good is on the horizon. How these men became to be as twisted as they are, is anyone's guess. Mignola and company sure have fun bringing them forward to the reader, however.
RASPUTIN: THE VOICE OF THE DRAGON #3
Writer: Mike Mignola, Chris Roberson
Artist: Christopher Mitten
Colorist: Dave Stewart
Cover Artist: Mike Huddleston
Spirited Searches
Plot - 80%
Writing - 92%
Art - 85%