Ripping a big hole in the DC universe, Doomsday Clock has been raging for a few months now. And while the books have been terrific, you actually might like DC Collectibles' figures even more.
2 minutes to midnight
There are few comic book happenings like Doomsday Clock. It's the kind of event book series that fans not only take special note of, but ravenously gobble up. DC recently announced that the mini-series would be transferring to a bi-monthly format. That means the issues will be spaced farther in-between, and that this is one arc that's going to stick around for a while.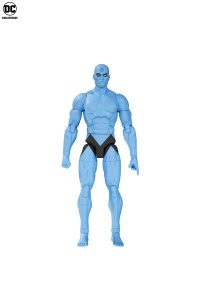 I'm not all that thrilled with event series' that take a year to play out, but I'm not all that upset with this move. Mainly that's because there aren't going to be any filler issues packed into it. DC is simply spacing things out a little further. Not too shabby. It should all be heading somewhere very cool too, since Doomsday Clock is effectively merging the Watchmen into the DC Multiverse.
And all of this also means that fans are getting something else – toys. And these aren't just any action figures either. No, this new series of Doomsday Clock figures from DC Collectibles is looking like it's just as special as the series it's based on.
With designs right from the mind of character designer (and Doomsday Clock artist) Gary Frank, these figures will stand in at the 7″ scale, and include a pair of brand new characters. Releasing in sets of two will be "Dr. Manhattan, Ozymandias, Rorschach and the Comedian, plus two new DC universe characters – Mime and Marionette"
These don't have a strict release date as of yet, but DC says you can expect them to hit sometime this year. I'd imagine that'd be somewhere around the close of the series itself, which should be this fall. That's just a guess though.
Check 'em out in the gallery below.