Publishers of Conan comics for years, Marvel has once again secured the rights to the famed Cimmerian. Conan the Barbarian returns in 2019.
CROM
With over 650 issues from 1970 to 2000, Marvel brought fans the adventures of Conan The Barbarian, Conan the Adventurer, Conan the Savage and Savage Sword of Conan among other popular titles.

"From Barry Windsor-Smith to John Buscema to Neal Adams, a legendary line-up of amazing artists brought Conan to life in the pages of Marvel comics," said C.B. Cebulski, editor-in-chief of Marvel. "It's a legacy we're now going to live up to with the talent we have lined up for the Cimmerian barbarian's homecoming in early 2019. We're excited!"

"We're thrilled to be working with Marvel and look forward to the new adventures in store for Conan," said Fredrik Malmberg, President of Conan Properties International. "As the most well-known and creative publisher in the industry, we think Marvel is a great fit for our stories."
That's the official word above, from both Marvel and Conan Properties International, who handles the licensing of the Hyborian-age warrior. Honestly, while I get a lot of why this is happening, I'm not sure how I feel about it.
An age soon gone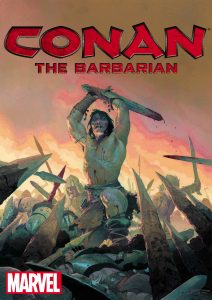 As you can see, there's a year to go on this deal before it takes effect. Though that's not a ton of time honestly, when you need to wrap up storylines. If you're wondering what I'm talking about, let me clarify – the Cimmerian has been in Dark Horse Comics' stable for a good long time.
And man, did they do some cool stuff with him. Conan had many an adventure under the Dark Horse banner, and it's actually where I became a fan of him. Even though I really dug the Schwarzenegger movies of the '80s, the character didn't click with me till Dark Horse started producing its series.
Now, I suppose, all that will be wiped away in favor of a new continuity over at Marvel.
Wait, didn't this happen already?
If you've got deja vu, that's because almost the same exact thing happened a few years back with Star Wars.
Also a former Dark Horse property, Star Wars was absorbed into Marvel parent Disney. After that, it wasn't long till the rights became Marvel's. Though I still prefer Dark Horse's "Expanded Universe" I will say that Marvel has done a great job with Star Wars.
I've enjoyed pretty much everything they've come out with, including the new characters and stories. Still though, while that should bode well, this is a whole different story than the on in the galaxy far, far away.
While Star Wars is fun for all ages (pretty much), Conan is not. At all. Dark Horse's books might've skipped over some of the rougher elements here and there, but they didn't exactly skimp on the violence. It remains to be seen if that'll hold true over at Marvel. Actually, maybe it doesn't since I don't remember those old comics being all that over-the-top gory. And yes, these new books have to be all of that that.
So I guess cross your fingers, because Conan the Barbarian debuts as a Marvel comic in 2019.