Everyone's heard of the Mad Hatter, the March Hare, and their friends in Wonderland. Did you know that there were additional stories about them and where they find themselves? Pick up a copy of Mad Hatters & March Hares to find out more.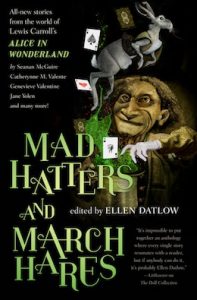 Mad Hatters & March Hares
The March Hare is a tour guide. Alice becomes a hatter. How about a world full of Alices and non-Alices. These are just a few of the narratives you will find in the new book, Mad Hatters & March Hares, available December 12th by Tor books.
Fan Fiction
The Caterpillar and his hallucinogenic influences have certainly been at work here. These stories are as different as you can imagine, and more. Sometimes, you wonder where the Cheshire Cat may have smuggled the inspiration for these from.
Including such ideas as Alice in Wonderland being an off-broadway hit, or  Alice cleaning up the living spaces of those who recently shed their mortal coil. Even the mischievous twins Tweedle Dee and Tweedle Dum have a story in a circus, strange as that one is.
Wilds of Wonderland
As readers, we never quite know what we will find in a new book. Some of these ideas are incredible, while others are head-scratchingly bizarre. I am proud to report that the stories in this collection of seventeen works, are each unique with their own strange twists and turns. More than once I found myself re-reading a section because I could not believe what I was reading, or trying to envision a character as Alice being a hatter or a cheshire.
While you will burn through some of these stories with surprising ease, others will cause you to pause, re-reading to be sure you covered it all. If that's not sufficient to keep you on your toes, the endings are not always what you expect either.
That being said, if you were a fan of the mad hatter or any of his compatriots in the vivid world of Wonderland there is something for everyone. I am certain that you will find a story or two in Tor Books' upcoming Mad Hatters & March Hares.
Authors
Authors include Seanan McGuire, Jane Yolen, Catherynne M. Valente, Delia Sherman, Genevieve Valentine, Priya Sharma, Stephen Graham Jones, Richard Bowes, Jeffrey Ford, Angela Slatter, Andy Duncan, C.S.E. Cooney, Matthew Kressel, Kris Dikeman, Jane Yolen, Kaaron Warren, Ysbeau Wilce, and Katherine Vaz.
Down the Rabbit Hole
Variety - 95%
Stories - 86%
Impressions - 86%
Down the rabbit hole we go. This book comes complete with multiple rabbit holes, and multiple realities to along with them. Be sure to explore for yourself!