Nintendo's last big Holiday title, Xenoblade Chronicles 2 arrives on Switch this week. Time to do some Titan-hopping.
Titanic
Man has the Switch had a good first year, or what? Nintendo's latest had a few hurdles to clear as there was a short dearth of new titles around launch, but it picked up big time in late-summer and the fall has been excellent all-around.
Xenoblade Chronicles 2 represents the final jewel in that crown, as it's Nintendo's final big release on the 2017 calendar. Not that there aren't other games coming up before the year turns over, but this is the last biggie.
Same goes for this week's offerings actually. Xenoblade isn't the only game out, but it's the one that you've probably been looking forward to the most. If it's not your bag though, there's also the very interesting looking Nine Parchments, as well as a new Arcade Archives title (Traverse USA), and a few other titles. Yes, before you ask, there's a NEO GEO game in there too.
Have a peek.
Nintendo eShop on Nintendo Switch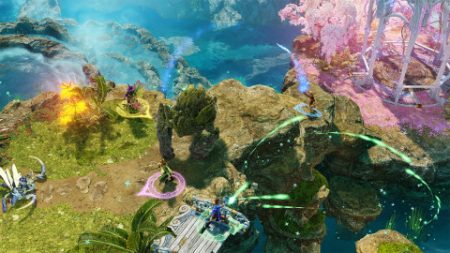 Nintendo eShop sales:
Nintendo eShop on Nintendo Switch, Nintendo 3DS and Wii U

Nintendo eShop Cyber Deals – Treat yourself this holiday season with big savings on select digital games. Shop on Nintendo.com or in Nintendo eShop on your Nintendo Switch, Wii U or Nintendo 3DS family system to purchase and download games to play over the holidays. My Nintendo members also earn Gold Points on qualifying digital purchases, so it's a win-win. The sale runs through 8:59 a.m. PT on

Dec. 11

.
Activities:
Fire Emblem Heroes Update – The recent free update to the Fire Emblem Heroes mobile game adds a ton of cool features to the mobile game. These new features include:

Book II of the Main Story Has Begun – The saga of Fire Emblem Heroes moves on to the next chapter. Meet Fjorm, Princess of Ice, and get her to join your team as an ally by clearing Chapter 1: Part 5 of Book II.
A Legendary Hero and new Blessings Have Been Added – A new Legendary Hero has been added. Fjorm is the first of them, but in the future, you'll have the chance to obtain others, too. Legendary Heroes have one of four legendary elements (Water, Wind, Earth and Fire) that resonate with the corresponding Blessing to give Heroes strength. With these Blessings, different Legendary Heroes will give different stat bonuses.
Level Up Your Skills with the Weapon Refinery – Strengthen the weapon skills of your Heroes! After clearing Chapter 13 in the main story and then clearing the Intermission chapter, The Rite of Blades, the Weapon Refinery can then be found under Advanced Growth. With Weapon Refinery, some existing weapon skills can be improved with boosted stats or even additional abilities. Other weapons can even be upgraded into high-level weapons skills.

Fire Emblem Heroes Bonuses – To celebrate the major 2.0.0 update for the Fire Emblem Heroes game, you can receive a Log-in Bonus of free Orbs up to 10 times until

10:59 p.m. PT

on Dec. 12. These Orbs can be obtained from your Present List. But that's not all: A double EXP and SP event will also take place until 10:59 p.m. PT on

Dec. 4

.
My Nintendo Activities:
Happy December! (available on Dec. 1) – The holiday season is right around the corner, and we're celebrating all month long with Mario games. Redeem your My Nintendo points and get discounts on favorites that the whole family can enjoy:

30 percent discount on Mario & Luigi: Dream Team (Nintendo 3DS)
30 percent discount on Mario Tennis: Ultra Smash (Wii U)
50 percent discount on Super Mario Bros. 3 (Nintendo 3DS / Wii U)
50 percent discount on Super Mario RPG: Legend of the Seven Stars (Wii U)
40 percent discount on Super Mario Maker (Wii U)

You can also redeem your points and get these full DLC packs for the Mario Kart 8 (Wii U) game*:

Mario Kart 8 DLC Zelda
Mario Kart 8 DLC Animal Crossing

You can still redeem your points for these festive Mario rewards, too:

Mario Nintendo 3DS HOME menu theme
Mario Holiday wallpapers

And finally, don't forget to stop by Play.Nintendo.com during the holidays for tips about how to create your own Cappy ornament and Toad garland – the perfect additions to that gaming-themed tree.

Xenoblade Chronicles 2 Wallpaper – To celebrate the launch of Xenoblade Chronicles 2, My Nintendo is offering a special December calendar and wallpapers featuring imagery from the game. Redeem your My Nintendo points for these rewards:

Xenoblade Chronicles 2 – Kingdom of Uraya Wallpaper
Xenoblade Chronicles 2 – Argentum Trade Guild Wallpaper
Xenoblade Chronicles 2 – Argentum Trade Guild December 2018 Calendar
Nindie Game Gold Point Rewards Vol. 2 – Got Gold Points? Get select games! This holiday season, My Nintendo users can redeem Gold Points for some of the hottest indie games on Nintendo platforms. For a limited time, redeem points to download select Nintendo 3DS and Wii U games from talented independent developers. Users will receive a download code that is redeemable in Nintendo eShop.
Also new this week:
*The full version of the Mario Kart 8 game is required in order to purchase the DLC.