A trio of new One:12 Collective figures have gone up for pre-order this week, including Thor: Ragnarok Hulk and Thor, and the awesome Joker Deluxe Edition.
Toy Ragnarok
First up from the new pre-orders on Mezco's site are a pair of heroes turned gladiators from the recent Thor: Ragnarok film. Of course, that's Thor himself and the Hulk I'm talking about.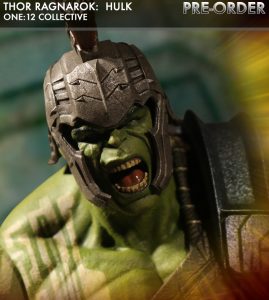 These are the first versions of the classic Marvel Comics heroes to hit the One:12 in any form. Personally I find that a little odd since they're two of the biggest heroes in the Marvel U, but I won't complain. It's still cool to get both, even if it's in movie form.
Hulk, it's worth noting, is more than your average One:12 figure. He's bigger, and also more expensive. While Thor will run you $80 USD (the usual for these guys), Hulk will cost $125.
Grab a pre-order for the Thunder God here, and the Jade Giant here.
The Joke's on you
We've already gotten an amazing Joker figure as a part of the One:12. I actually consider that one the best Joker figure pretty much ever, and easily one of the best figures in this line. That's really saying something by the way, 'cause man do I love this line.
In addition to him, we've also already seen a "punk" version of Joker that's made the rounds at Comic Cons for a while. It's a different take on Mr. J, and one that I'm still not sure we need, even though he looks pretty great.
For that matter, I'm not sure we need this one either. But that's probably not going to stop me from buying one. As great as the standard Joker is, this one's a masterpiece. As you can seen from this shot, Mezco has packed everything but the kitchen sink into this deluxe package.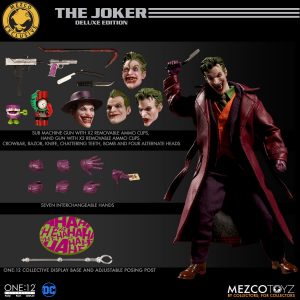 Four portraits, a whole mess of extra hands, character-specific weaponry, and even a chattering set of teeth are among the accessories in the box.  You also get that trench, which looks great paired with the fedora head, and a spiffy orange vest in place of the usual purple one. Neat.
Like Hulk, Joker here will cost a bit more than your standard One:12. Not that much more though, as he'll clock in at $90. Not bad at all considering what you get. Expect him in the March – May time frame. Pre-order him here.