Doom is officially on a Nintendo console once again. But just how does the Switch version stack up against it's siblings.
A surprising port, but a welcome one
There were probably few gamers as shocked as I was when Doom was announced for the Switch. And I mean that in a good way. Releasing first in 2016 for the Xbox One, PS4, and PC, Doom was an excellent rebirth for a classic gaming franchise.
With it, Bethesda and iD created a re-envisioning that payed copious amounts of homage to the original series, while adding to it. Yes, the game is almost all action, with minimal narrative. But the thing is that there's a shockingly deep backstory to Doom (2016), it just doesn't interfere with what gamers want most from something called "Doom" – that being action.
Doom also had a stunning graphics engine behind it, and some incredible production quality all around. Likewise, the controls were innovative, with an emphasis on melee combat that not only felt right, but made it feel special in a crowded field of FPS'.
Aside from single and multiplay, the game also offered something called SnapMap. If you're not familiar, SnapMap harkened back to the golden age of the original Doom (and Doom II) on the PC. Sure that campaigns and multiplayer were plenty fun in those early shooters, but so was creating your own WADs (maps) for you and your pals to play through.
Recreating all that on the Switch was set to be a tall order. It's just not as powerful a platform as the others out there. So how would a game like Doom make the jump? Well, it's a bit of a complicated answer.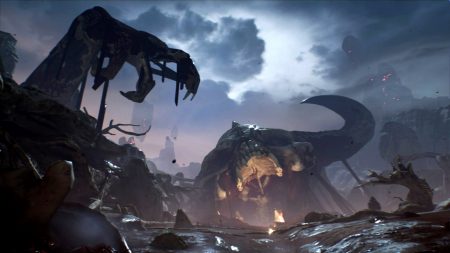 Controlling demons
I'll start here since it's the easiest to talk about and this'll probably be the shortest section. Simply put, Doom controls beautifully.
It is not an exact copy of the other versions of the game in terms of control though. The inputs are basically the same, but things just feel different, especially with the JoyCons. It shakes out to not be all that big of a knock though, because it's not all that different and the majority of the game plays great with no complaints from me.
If you have the choice though, play with the Pro Controller.
Hellish options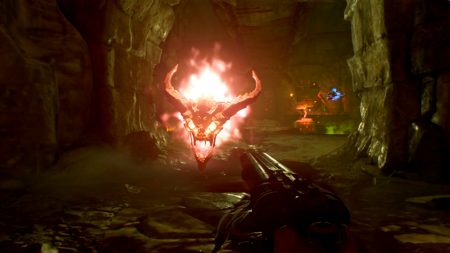 Doom is Doom. This is the same game that graced all the other modern platforms last year… with one exception. There's no SnapMap.
For me, that's kind of a bummer as the drive to play through Doom's campaign isn't as strong as it was the first time around. Playing player-created maps would have been nice in that way. Still though, it's not a deal-breaker.
Doom's campaign still constantly reminds me of how much fun it is, and the multiplayer is there for a few rounds if you like. Plus, all of this is mobile, and I can't really overstate how cool that is. That might make Doom sound like a one-trick-pony on the Switch, but I don't mean it that way. It's an awesome game that's made even cooler by the fact that you can take it with you.
Looks and sounds of the netherworld
So this section is kind of a mixed bag.
The sound is terrific, just as it was in the other versions of the game. On the other side though, the graphics, well they're just not as good as you might have hoped. Honestly though, you should have expected that since this is the Switch.
Again, the Switch isn't as powerful as a PS4, so you just can't expect the same impressive looks out of a game like Doom. This isn't to say that Doom looks bad in any way though. It emphatically does not.
From the crowded halls of the UAC facility, to the open deserts of Mars, to the tormented fields of Hell itself, Doom looks excellently twisted. If you haven't played it before, you will probably be impressed with what the Switch can pump out here. It's only if you're a vet of the game already that you will definitely notice the difference.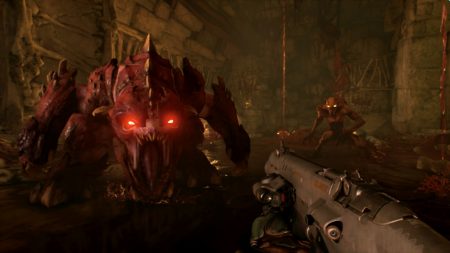 Doom on the Switch has a somewhat blurry look contrasted against the Xbox One version for example. It's missing the sharpness and definition that the original release brandished. This is most noticeable when playing on the TV however. If you're playing the Switch in handheld or tabletop modes, you'll still notice it, but not nearly as much.
At it's core though, Doom is still plenty of fun. It's loaded with action, gore, and throwback sensibilities to a simpler time for the First-Persion Shooter genre. If you're a Switch gamer who hasn't indulged already, then I can hardily recommend checking it out.
If however, you have already played Doom to death, you might want to be a tad more skeptical.
Doom
Release Date: November 10th, 2017
Platform(s): Nintendo Switch. Also available on the PC, PS4, and Xbox One
Publisher: Bethesda
Developer: iD
Rip and tear, at home or on the go
Control isn't the best, but it's not bad in any way - 80%
Doom's graphics took a hit, but still look great - 89%
Doom on the Switch has all the content, minus the SnapMap - 85%
Doom on the Nintendo Switch is a flat-out triumph. The game includes all the bells ad whistles of other platforms editions, minus the level-creation tool. Likewise, all of the excellent campaign content is there and the game plays great. No, it might not look as good as Doom does on the PC, but it's not all that noticeable when you're playing it on a handheld at work. If your'e new to the game, you're going to love what iD and Bethesda have managed to do here. And if you're not, well you'll probably still love it.