This week's PS Plus free games lineup for your beautiful PS4 are as equally beautiful Bound and just as destructive Worms Battlegrounds.
While we are not seeing any Triple-A games this month, we do have Sony Interactive Entertainment's (SIE) Santa Monica Studios (the creators of God of War) indie game Bound.
[embedyt] https://www.youtube.com/watch?v=Us5CfwKk18w[/embedyt]
Who Said Ballet Was Not Cool?
Like Santa Monica Studios 2012 award-winning game Journey, Bound does not disappoint with it's emotional and artistic feel that their studio is known for. Run, dance, and twirl through continuously changing platforms with distant color palettes and be the pretty princess you have always wanted to be (that last part was a joke).
Second for PS4 join these crazy worms back in Worms Battlegrounds, an artillery turn-based tactic videogame. Created by the always funny Team 17 know for their worms games starting back in 1995 and the odd Leisure Suit Larry: Box Office Bust. Crush your family and friends in multiplayer matches where each turn is full of questionable decisions, high-powered weaponry, and exploding sheep because why not!
For PS3, we have R-Type Dimensions a high flying challenging platforming shooter. Based on the 1998 arcade game, R-Type Dimensions includes both the original game and the new 3D version.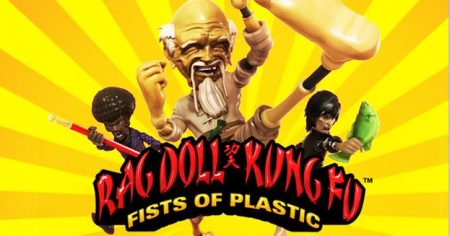 Rag Doll Kung Fu: Fists of Plastic is next for the PS3 and is one of my personal favorite games just because how idiotic it is. Fight your way through other string like rag doll characters with complete control of every part of there body. It is sure to at least make you laugh.
Dungeon Punks on the PS Vita is an old-school arcade beat-em-up with an RPG adventure. Fight for sweet loot and be the punk every hates!
Broken Sword 5: The Serpent's Curse Episodes 1 & 2 on PS Vita is a Telltale's like videogame. As the fifth title in the series discover who did it, how they did it, an unfold this dramatic adventure games before it is too late.
The Full Lineup:
Worms Battlegrounds, PS4
Bound, PS4
R-Type Dimensions, PS3
Rag Doll Kung Fu: Fists of Plastic, PS3
Dungeon Punks, PS Vita (Cross-Buy with PS4)
Broken Sword 5: The Serpent's Curse (Episodes 1 & 2), PS Vita
Until Dawn: Rush of Blood, PS VR
Also as PlayStation is celebrating their one year anniversary for PS VR they are giving away Until Dawn: Rush of Blood as a free bonus for PS Plus members. The game will be available from Nov. 7 through Jan. 2 for U.S., Canada, and most of Latin America.
[embedyt] https://www.youtube.com/watch?v=F6dShyUAhjU[/embedyt]
Lastly, as said by PlayStation.blog, "we have hundreds of games on sale right now at PlayStation Store — and PS Plus members get double the discount. The three we are most excited for our Kingdom Hearts HD 1.5 + 2.5 Remix (20%; 40% off for PS Plus members), Mega Man Legacy Collection 2 (15%; 30% off for PS Plus members), and Horizon Zero Dawn (22%; 44% off for PS Plus members). Stock up on some new games for the holidays, but grab 'em before the sale ends on November 7 at 8 am Pacific."
Let me know what you're excited about in the comments down below, see you next month and have a happy thanksgiving!