Statue and collectible-maker First 4 Figures had their very first showing at a major Con with this month's NYCC. And they impressed, big time.
King of the Koopas
Finally, after a blind pre-order period had come and gone, F4F showed off Bowser at NYCC. Surprise – he's awesome.
A massive piece, Bowser is excellently detailed and comes on a base reflecting his keep from the Super Mario series. The First 4 Figures exclusive was shown at the Con too, and looks to be pretty incredible.
Only sold at F4F's online store, the exclusive comes with a light-up plume of fire-breath. It's an incredibly big add-on too, so thankfully you don't have to display your statue with it. It's affixed with a magnet, and can be swapped with King Koopa's tongue. Really though, make some room if you're getting this one. The fire is great looking.
As cool as he is though, Bowser wasn't the only big reveal at the show.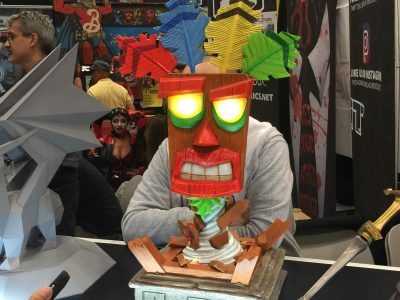 Solid Snake, Aku Aku, and more
The final version (well, almost) of the much redesigned Solid Snake statue from Metal Gear Solid also made its appearance. It looks great too, with added snow on the base and a re-sculpted face. The pistol will be replaced with something that looks like the SOCOM form the game too, though it wasn't ready for NYCC.
Crash's pal Aku Aku was on display for the first time, and looked amazing. The light-up effects are super-bright (even on the show floor) and I'm told that he might have a sound effect as well. Stay tuned for that. As a big Crash fan, I think I'm in for this one.
Past them, Soul Calibur's Taki was on hand and looked amazing, as did Guts (from Berserk), and Castlevania's Alucard. Al's hand was absent for most of the Con (it got lost), but what was there looked great.
I also have to throw in a mention of that Sonic 25th diorama. It looks awesome, and I'm still kicking myself for not diving in and pre-ordering. Great stuff.
Have a peek through the gallery below to see most of what was on the shelves.