Sonic the Hedgehog's second big launch of 2017 is almost here, as Sonic Forces will hit before the Holidays. There's even a neat Bonus Edition to be had.
More Sonic!
Pre-orders are live now, and Sonic Forces is coming along nicely. The game, which is set to hit the Xbox One, PS4, PC, and Nintendo Switch, is set to deliver the second helping of the Sega mascot this year.
If you haven't played Sonic Mania yet, you should. Forces is a different 'hog altogether though, and is more akin to the (also excellent) Sonic Generations. So really, it's quite a good time to be a Sonic fan. There's something that you couldn't say with a straight face for a few years.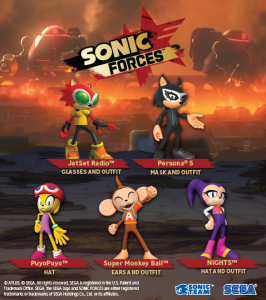 And should you pre-order the game at retail, you're in for a special treat. Sega will be releasing a Bonus Edition that will be a physical-copy exclusive.
That version will include "13 more in-game outfit items and accessories to recreate the look of five other SEGA/ATLUS icons for your Hero Character." On top of that, pre-ordering from specific participating retails will nab you a Shadow Costume for your Hero Character. "Hero Characters", by the way, are the custom characters that you can build in Forces.
Switch, PS4, and Xbox One physical pre-orders are live right now, and will hit on November 7th. If, for some reason, you like to pre-order your digital copies though, you'll have a bit longer to wait till you can pony up.
Digital versions, for all platforms (including PC), currently have no pre-order date. Though Sega says that will change. So, watch for that I guess.