Capcom's classic Puzzle Fighter puzzle game is coming back, for mobile handsets. And this time there are more than World Warriors puzzling it out.
Puzzle up
Puzzle Fighter was something of an anomaly. The game was released in the 90s, at a time when Capcom was pretty much known for Street Fighter and Resident Evil. Actually, now that I think about it, they still are. But I digress, because while it was a one-off, Puzzle Fighter was also tons of fun. Probably way better than it had a right to be.
As a Tetris fan from way back, I loved it. Maybe as much for the Street Fighter characters and flashy graphics as for the gameplay. But really, it was a great package all together, so either way.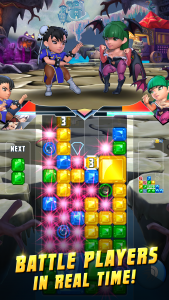 And now, it's back. Capcom has announced that Puzzle Fighter will be returning as a mobile game. Coming to iOS and Android devices later this year, the game is set to offer up the same engrossing gameplay as before, with a twist.
This time around, PF will star not just Street Fighters, but a bevy of Capcom stars. So far the announcements include "Ryu, Ken" … "Chun-Li (Street Fighter), X (Mega Man), Morrigan (Darkstalkers)", and "Frank West (Dead Rising)", but more are coming according to the publisher.
They'll all have special moves, just like in the original PF, and they'll all be voiced. So this one will sound as good as it (hopefully) looks and plays. Expect "real-time versus battles, rewarding single player options and an array of content to unlock await in this ultimate puzzle fight!"