Head's up Switch gamers, Mario's wacky Rabbid adventure is finally (almost) here.
Kingdom Battle
For all intents and purposes, a Mario and Rabbids team-up should be a kind of iffy thing. I mean, Mario is classic and all, but the Rabbids? They're two-bit semi-villains from Rayman. As much as I dug Rayman in general, the Rabbids were never really high on my list of cool stuff.
Even so though, I have to admit that I'm overly excited for Kingdom Battle, which arrives on the Switch this Tuesday. Not only do you get to create a team of Mushroom Kingdom regulars and Rabbid imposters, but it's a strategy title. How many of those has the Mario franchise played host too? Right.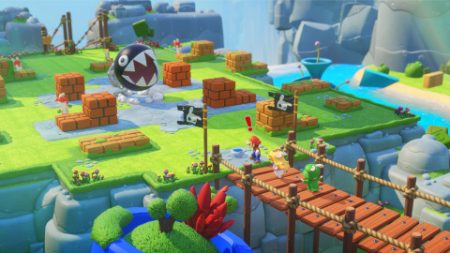 So it's unique. It's also colorful, and looks to be loaded up with goofball humor and that signature Nintendo magic. Even though, you know, it's not technically from Nintendo. Nope, Mario + Rabbids Kingdom Battle is a Ubisoft title. And that's kind of unique too really.
Now, this is a big game for the Switch, but if you're not into it for some reason then there's little else this week. There is a kind of neat looking little Metroidvania called Forma.8, and puzzler, but that's it. Oh wait, forgot the Neo Geo game of the week, it's Puzzled. So yeah.
Nintendo eShop on Nintendo Switch
Mario + Rabbids Kingdom Battle – A mysterious vortex has torn apart the Mushroom Kingdom, transporting the chaotic Rabbids into this once-peaceful land. To restore order, Mario, Luigi, Princess Peach and Yoshi must team up with a whole new crew: four Rabbids heroes! Together, they will battle with weapons through four worlds filled with combat, puzzles and unpredictable enemies. The Mario + Rabbids Kingdom Battlegame will be available exclusively on the Nintendo Switch console on

Aug. 29

.
Activities:
For customers in the United States and Canada, PayPal is now available as a payment option for digital content on Nintendo eShop for Nintendo Switch! Linking your accounts will also allow you to use PayPal as a payment option on the Nintendo website when purchasing content for Nintendo Switch, Wii U and the Nintendo 3DS family of systems. Learn more here.
Nintendo eShop sales:
Nintendo eShop on Wii U and Nintendo 3DS
Also new this week:
forma.8 (Nintendo eShop on Nintendo Switch)