"Kingdom" is the theme of the August 2017 Loot Crate, and it's packed with stuff from Lord of the Rings, The Legend of Zelda, and more.
Behold, a Kingdom of goodies
Loot Crate can sometimes be a hit or miss proposition, but this month is more win than anything else. The blind box subscription service's theme for August of 2017 is Kingdom, and it's packing a tee, a poster, a glass, and a figurine.
Though, with all that said, there is something oddly missing. And I'm none too happy about it either. Read on for a full exploration of the box, though keep in mind that spoilers will abound.
The tee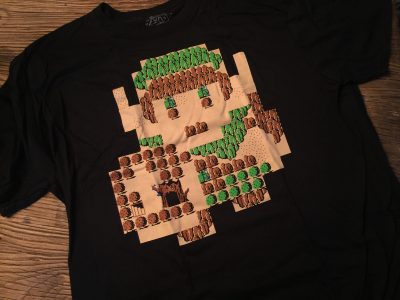 Starting things off right is the t-shirt for August. It's awesomely classic, it's Nintendo-themed (always good)- it's The Legend of Zelda. Patterned after the graphic set for the original LoZ game on the NES, this tee is deco'd with some Hyrulian staples. Even cooler is that it's all set in a map that looks like Link!
As a big fan of the iconic game, I love this shirt, and I'll probably wear the heck out of it. It's a nice fabric too, not too light. So I'd imagine I could do just that without accruing plentiful holes in it.
The Figurine
This month also brings a little figurine along for the ride. It's not a Q Figure, which some fans might have been expecting from that sub-heading, but it is pretty neat anyway. It's the (n)Ice King from Adventure Time.
Apparently, the Ice King is an all around nice guy now, and friend to penguins everywhere.  Honestly though, I haven't watched Adventure Time since the first season, so I'm not really a fan. That definitely dulls my opinion on this one, though it is a neat lil' figurine. Not a bad addition to the old vinyl shelf.
The Poster
Not specifically a poster really, this is more of an art print. And it's a cool one. Showing a stylish image of the Kingdom of Isengard in the background, the image shows Treebeard the Ent, as he takes in what used to be a forest. Some of those trees Saruman hacked up used to be his friends you know!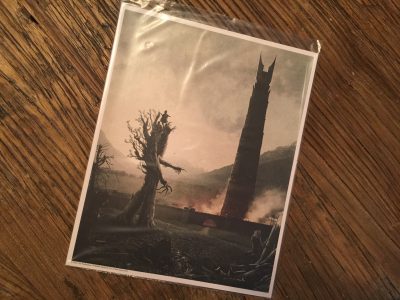 We all know what happened next, as the Ents savaged the evil wizard's tower. So this is kind of the calm before the storm, as it were. Cool stuff.
Now to find a frame… and a place to hang it.
The drinkware
I'm not sure if I can really call this a "glass". Oh, it's glass alright, but it's also pretty tiny. Not shot-sized, but not the kind of thing that you'd want to pour a tall frosty beverage into either.
It is, however, cool. Well, it gets cool anyway. No really, I mean that literally as pouring in a cold drink (of any sort) will turn the elvish script from gold to red, as though you've pressed the One Ring into flame.
I'd imagine a trip through the dishwasher is out of the question for this one. Oh well, another "hand wash only" for me. At least it's awesome.
The box and the pin… waitasec
This month's box carries on the nifty tradition of turning into something else. Popping the bottom out, you can fashion a lil' cardboard shield for yourself. LC even left it blank, with the intention that you could decorate it with your own family crest. Or, you know, whatever.
Actually it's this month's hashtag also. Meaning they want you to deco it up right, and then tag 'em on social media so you can maybe get some recognition for your artsy skillset. I dig that.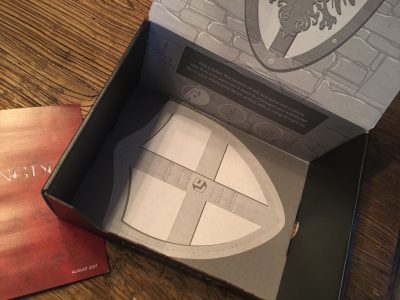 You know what I don't dig? No pin. Nope, there's nary a pin in the box. The magazine is in there, but nothing else. I know, in the grand scheme this isn't a big deal. The box more or less delivers the goods this month, but I actually started to like those darn pins, and now I enjoy getting them.
So not really a monster-sized complaint, but still.
Overall, a winner
I like this Crate a lot, if you couldn't tell. The majority of what's included is excellent, though I would have preferred Adventure Time's Ice King was swapped out for a Game of Thrones collectible. I don't really feel like Kingy fits all that well with the rest of the assortment. Also, two LotR items was pretty nice to get.
So again, an overall winner, and I continue to be happy with Loot Crate. Even when there's a dud of a Crate, there's always something to like. Now, if you'll excuse me