Massacre is finally here, and the Valiant Universe will never be the same after Harbinger Renegade #5.
Harbinger Renegade #5 is the first book in the "Massacre" arc. This is an issue that has been built up for months, teasing the death of a major character. Without giving away any explicit spoilers, it is fair to say that there is indeed a major death.
The art and writing is on point for a big moment in a comic, and the rest of the book follows suit to present an enthralling and intense chapter in what is sure to be a bloody arc.
Plot in Harbinger Renegade #5
"Yeah. We know there is a plot. So this subheading is basically useless."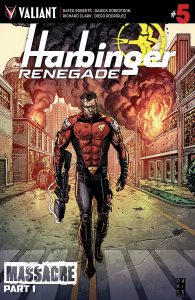 That's sort of how I feel about the plot in the beginning of the arc. There are clear heroes and villains, but these lines will matter slightly less to someone who isn't already deeply immersed in the Valiant universe.
Here is what you need to know going in. Psiots, part of Project Rising Spirit have taken over a city. Rook, a military mercenary force is sent to eliminate targets and retake the city.
In short, the plot isn't exactly groundbreaking. That's fine though. It sets the stage for a great action sequence and upcoming story.
It would be unfair to not mention the scene that has been teased for months.
Honestly? Its a bit of a disappointment. It happens so quickly that you might not even realize what is going on. Hopefully there is more brutality moving forward, because that is what this arc was truly sold as.
Writing that works
The writing in this book is satisfactory, and the plot moves forward at a great pace.
There are no moments in the book that really drag, but because this is the beginning of an intense arc, I honestly just believe that that is the way it should be. The scenes don't drag, and actually move along at a strong pace. This is nice to see that the buildup is finally complete, and readers can simply expect a *fun* roller coaster ride.
The dialogue is done well, too. All of the characters, be they unlikable military personel or flawed heroes make sense in the context of the story. Everyone talks how I would expect them to talk, and feels like a real person. This makes the touted death a little harder, but as someone with no connection to the series, it still doesn't hit home.
Great artwork
The artwork throughout this book is exceptionally well done.
Every detail is clear, every detail stands out. This intricacy follows all the way down the line to the ways the dialogue stands out in speech bubbles.
Without going into technical details, the art is great. Take a look for yourself at the preview pages:
Overall
This issue is probably a fair jumping on point for those new to Valiant comics or this book. While the much teased annihilation might not mean much to you in that instance, the action, wit and art offer things to even the most casual comic book fans.
I have a feeling this arc will go down as one of the biggest Valiant stories of all time. Or maybe not. I'm not a psiot, and I can't see the future.
Harbinger Renegade #5
Release date: July 12th, 2017
Format: Comic book
Publisher: Valiant Comics
Written by: Rafer Roberts
Illustrated by: Darick Robertson
Massacre!
Plot - 75%
Writing - 80%
Art - 90%
Although this book definitely packs a bigger punch if you are involved with these characters and storylines, this is an issue that could transcend fandom.