Whether you are a retro gamer or a Christmas noob, videogames are an art and a passion.
"It's a New Medium That Has Vast Applications in the Modern Era"
Everyone likes talking about their favorite moments. Whether that's finally getting the golden Zelda cartridge from the Nintendo Entertainment System (NES), or the millionth time they died in one of the many incredibly hard boss fights in the Darks Soul's franchise.
It's the love of the medium that makes these moments last. Going back to a favorite game on a rainy day, or actually preserving these retro titles and consoles we love can even kind of become an obsession. Meet Jeffrey Farber, owner of 1up Forge. I got the chance to talk to him about his creations as an artist and a fixer of sorts.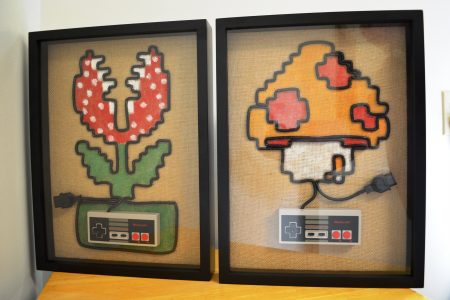 Farber takes old, beaten up consoles and brings new life to them. He repurposes them to be used as outlets, jewelry, charging docks, and even lamps.
He explains:
"I recycle broken down video game systems, controllers, and other peripherals. I give new life to these amazing gaming machines of the past, making many creative and functional items from home decor to wearable jewelry. No working video games are harmed in my creations.  All my items are carefully engineered and made to last.  Most of my hard work is hidden inside the consoles, controllers, etc. making my items look simple and minimalist but that is the beauty of my work. I consider each piece to be a work of art and take pride in my unique craft. It's a new medium that has vast applications in the modern era.  I'm keeping these pieces out of landfills and curating small bits of video game history at the same time."
It all has to start somewhere, and for Jeffery it was the Atari 2600.
"I am an avid old school gamer who spent many hours as a child playing the Atari 2600. When I wasn't grasping that joystick with the one orange button I would have my hands filled with pencils and drawing paper, doodling and coloring. I always knew I wanted to combine these two things I loved the most: art and video games."
"I Started Having More Fun Playing With the Broken Stuff Rather Than the Working Stuff"
He elaborates, "With this idea always brewing in my head, I eventually settled as a high school art teacher and repaired vintage video games on the side. When I could not fix something, instead of throwing it out, I kept asking myself 'how can I turn it into something new and usable?' My very first up-cycle was turning a broken NES console into a lunch box. I started having more fun playing with the broken stuff rather than the working stuff. I had so much fun, in fact, that I decided to quit my teaching job to pursue my realized dream of working with video games and art full time."
Jeffery goes on to say " [That] I'm constantly stretching my imagination to come up with new and innovated ideas for recycling video games. To me, a pile of broken video game equipment is not trash, but rather a pile of possibilities."
I went on to ask him what the pieces he's most proud of are. At one point in our conversation, he mentioned an NES lunchbox, I had to imagine that must've been pretty cool to use.
"The NES lunchbox does stand out because it was my first creative breakthrough and sort of set a benchmark for me. It got a lot of positive attention and everyone who saw it wanted one of their own. The game door could be flipped open and a sandwich would fit right in, that got me some oooo's and ahhhh's.  I definitely knew I was on to something." Jeffery added.
"Moving Away From Functional Pieces and Into to Pure Form"
He then goes on to talk about bigger dreams he has in mind,"I also feel good about my controller cord art shadowbox pieces.  These are very challenging and time-consuming to create but they always come out stunning. To me, they set the bar a little higher, moving away from functional pieces and into to pure form. My dream is to have a gallery showing with these shadowbox pieces using controllers from every system that used a cord."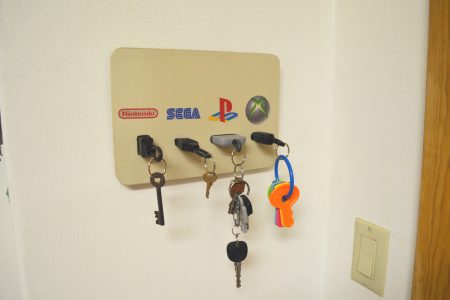 Nostalgia plays a big part in what Jeffery does. Having something physical that he can touch and feel puts smiles on both his and his customer's faces.
"My controller plug key chains are very popular. These are fun because they are small, they fit right in your pocket and they bring back memories when you hold them. I think that is the real appeal with my work, is that you can relive a moment from your past that brought so much joy and wonder.  Today's technology evolves so rapidly and everything is moving towards wireless so my pieces have a definite nostalgia quality to them." Jeffery mentions.
"Circuit Boards and Controller Toothbrush Holders"
While he has ideas for future creations, Faber sticks to requests from his customers for now. He replaces mundane house hold items such as coat hooks, electric outlets, or even toothbrush holders.  Faber retro-fies them into something to give your house a classic gaming feel.
"I have so many ideas on the back burners, including jewelry made using circuit boards and controller toothbrush holders. But my time is very limited. So currently I am staying busy with custom requests for lamps, key chains, and controller wire art pieces.
I go on to ask if he was currently working on anything new right now that he'd like to share. I mean those lamps are pretty darn wicked!
A big piece I just finished is my "Nintendo History" floor lamp. This is by far the most ambitious lamp I have ever constructed. It is made like a totem pole using 6 different Nintendo consoles and 6 controllers stacked one on top of the other. It starts with the oldest NES console at the very bottom and they go on up through Nintendo history to the Wii U and then on top of those I stacked the controllers for each system. To top it all off I added an orange NES zapper gun because it just seemed to fit.  It is going to be hard letting go of this piece." Jeffery says.
I had to ask him one last question. What is your favorite game on the Atari 2600?
Jeffery replied with:
"Tapper, such a fun game. Clink, clink, clink, smash! My favorite part was the bonus game you played after each level where the little bandit would shake up 5 out of the 6 cans of Mt. Dew and you had to pick the one that wasn't shaken or get sprayed in the face.  The subliminal product placement worked well because ultimately Mt. Dew became my favorite soda pop."
To see Jeffery's website where he's "Giving extra lives to broken video games" click here http://www.1upforge.com/shop/.
Jeffery Farber also has an Esty account going on its 7th year where he ships from Wisconsin. The link is located here https://www.etsy.com/shop/1upForge.
And lastly, you can find more of his crafts on Instagram @1up_forge or https://www.instagram.com/1up_forge/. Check out a few more examples of the neat stuff that Jeffry produces in the gallery below.