Joining the likes of X-Pool, Miles Morales Spider-Man is now a part of the One:12 Collective. And you can only get him from Mezco.
Spider-Men
I think it's safe to say that Miles is pretty widely known at this point. That's especially true since he's now a part of the 'standard' Marvel Universe after the destruction of the Ultimate U. And yes, that means that there are two Spider-Men running around.
With this new announcement, now there can be two running around your collection too. Well, not running, since they're inanimate objects, but you get the idea.
Miles is an SDCC 2017 exclusive, and will be made available at the Mezco Toys booth on the show floor (#3445). You can also get him however, by heading to the company's online storefront. He's $80 USD, and can be purchased right now, for shipping after the Con.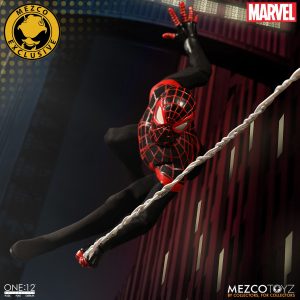 Here's what's included:
Detailed head portrait
One:12 Collective body with  over 30 points of articulation
Hand painted authentic detailing
Over 16cm tall
Six (6) interchangeable hands including
One (1) pair of fists (L & R)
One (1) pair of web-shooting hands (L & R)
One (1) posing hand (R)
One (1) wall-crawling hand (L)
Five (5) Weblines that loop over the figure's wrists for posing
Costume:
Acrylic eye lenses
Spandex outfit with web detail and spider insignia
Accessories:
One (1) of webline style A
One (1) of webline style B
One (1) of webline style C
One (1) of webline style D
One posable webline
One (1) One:12 Collective display base with logo
One (1) One:12 Collective adjustable display post