It looks like we are in for it again: This morning, Nintendo announced the next mini console it will produce: the Super Nintendo Classic edition.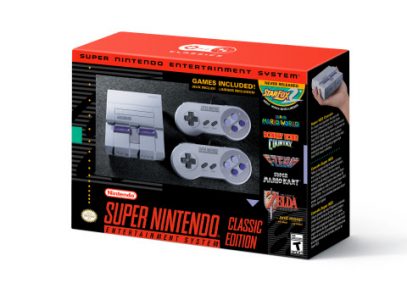 The all-in-one box is a familiar concept if you're aware of what Nintendo and other old school publishers have been up to in recent years. The console will come with 21 pre-loaded games, including classics like Donkey Kong Country, Earthbound and an all new, never released Star Fox 2!
Now you're playing with super power:
There are also some huge RPGs like Final Fantasy III, which is actually Final Fantasy VI, Secrets of Mana and Super Mario RPG.
If you already played these games and you find yourself scoffing at the $79.99 price tag, here is a kicker: one of the games, Star Fox 2, has never been released before. You will be able to access it in this collection by beating the first level of the original Star Fox.
This console also comes bundled with two controllers, making sure games like Street Fighter 2, Super Mario Kart and F-Zero are playable in multiplayer right out of the box.
For set up, it looks similar to the original NES classic: just plug it in and play. The controllers are still wired: hopefully, they will be longer than two feet this time.
I know for sure I will be picking one of these up, assuming there is a proper supply.
The Super Nintendo Entertainment System Classic Edition launches on September 29 at $79.99.
The full list of games included on the SNES Classic follows:
Contra III: The Alien Wars
Donkey Kong Country
EarthBound
Final Fantasy III
F-ZERO
Kirby Super Star
Kirby's Dream Course
The Legend of Zelda: A Link to the Past
Mega Man X
Secret of Mana
Star Fox
Star Fox 2
Street Fighter II Turbo: Hyper Fighting
Super Castlevania IV
Super Ghouls 'n Ghosts
Super Mario Kart
Super Mario RPG: Legend of the Seven Stars
Super Mario World
Super Metroid
Super Punch-Out!!
Yoshi's Island