The show has been over for a week and the dust has begun to settle with the top games standing out.
In the end, there were a lot of cool games shown for the first time. There were also updates and release dates given to games we have known about for some time. Without further ado, lets get down to it: My top 10 list.
10. Mario and Luigi Superstar Saga & Bowser's Minions
This deserves a spot on my list because of how giddy I was to hear a remake of this absolute classic is coming this year. On the other hand, it is low on the list because aside from the new side campaign the game will have featuring real time strategy, there doesn't seem to be a whole lot of new stuff.
Nonetheless, a whole new generation of gamers can experience the charm, wit and humor that sets these RPGs apart.
MLSS&BM is set to release October 6, 2017.
9. Starlink: The Battle for Atlas
Starlink was announced during Ubisoft's press conference. It was the only game announced at the show that will be cross platform between the Playstation 4, Xbox One and Switch. Seeing that support alone is a good enough reason for me to put it on my list.It helps that the game looks pretty cool, too.
In Starlink, you're the pilot of a fully customizable ship. You customize the ship in a toys to life fashion, though. Clipping different parts of your ship together will make it have different stats. Certain wings might give you better control while a different engine might make the ship fly faster.
This is a pretty cool concept, and I am excited to see what it looks like once it is closer to release.
8. Cuphead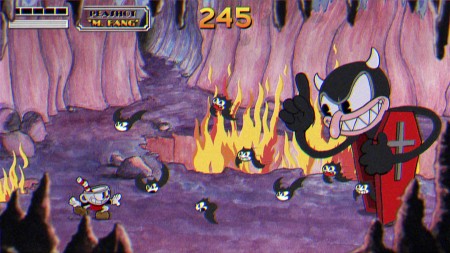 This one doesn't require too much explanation. Cuphead has been a highly anticipated game for me since it was first announced. It
finally has a release date, and that is enough to get me excited all over again for it.
Cuphead is set for release on September 29, 2017.
7. Metro: Exodus
This one caught me off guard when it was announced during Microsoft's press conference.
The Metro series consists of two first person shooter games. The player is part of a community living under Moscow after a nuclear apocalypse destroys life above ground. That looks to change though, as midway through the trailer, we see Artyom remove his breathing mask above ground.
Some cool stuff will be coming, and this is one I can't wait for.
6. A Way Out
If you haven't already seen the trailers and come to understand the hype surrounding this one, I might not be able to do much better.
You take control of two characters with very different attitudes and personalities who are trying to escape prison. The game must be played cooperatively, either via split screen or online play. The game promises a heavy narrative focus, so lets hope it delivers and I get to play an incredible and deep game with a friend.
5. Wolfenstein II: The New Colossus
We all kinda knew this one was on the way. This newly announced sequel is the follow up to the 2014 shooter. The first Wolfenstein in this reboot series had awesome shooting mechanics and all around gameplay and a compelling and rewarding story.
The new one will take place in America as BJ Blazcowicz fights to take his homeland back from the Nazis.
This looks to be an incredible ride. It will be available October 27, 2017.
4. Metroid: Samus Returns
Joining Metroid Prime 4 as the return to the Metroid universe, Metroid: Samus Returns wasn't even given time during Nintendo's E3 direct. It was announced afterwards at the Nintendo Treehouse live stream.
But hey, I'm not complaining about where it was announced. I am just happy it is here.
This is "reimagining" of Metroid II for the Gameboy. The original game was tough to play due to the limitations of the original system. This remake looks to be an incredible romp, and I truly can't wait to get this game in my hands.
Metroid: Samus Returns lands on September 15 for the 3DS.
3. Mario + Rabbids Kingdom Battle
We are really getting down to the meat of it. My number three was leaked before the E3 show, but what we learned at the show is enough to cement my hype for the months until this game launches.
If you ever wanted a Mario strategy game, well, here it is. I don't mean RPG strategy like in the Mario and Luigi games. Tactical strategy is what we are referring to here. The premise of the game is as such: The Mushroom kingdom is taken over by rabbids. A few rabbids decide to dress up like Mario and pals and help their new friends reclaim their home. Boss enemies include Petey Piranha Plant Rabbids, Donkey Kong Rabbids and more.
Mario and Rabbids lands on August 29 for the Nintendo Switch.
2. Super Mario Odyssey
This is the piece most were waiting for out of E3, or, at least Nintendo's E3 presentation.
The next three dimensional Mario adventure is here, and does it look great. Mario traverses incredible looking worlds like the New York inspired "New Donk City," to collect coinds, buy new clothes, and so forth.
The catch in this new one, though, is that Mario's hat is actually a ghost-monster-thing named Cappy, who can  "control" other things in the world. The trailer shows Mario controlling a T-Rex, and while that would be amazing, I can't exactly see that happening. I hope it does, though!
Super Mario Odyssey lands on October 27, 2017.
1. Xenoblade Chronicles 2
Xenoblade Chronicles 2 is the follow up to one of my favorite JRPGs in recent times.
Although the trailer didn't show too much gameplay, just knowing that a Xenoblade game will be coming to the Switch relatively soon is enough for me.
As of now, Xenoblade 2 is scheduled to release "later this year." Here's hoping!