To be fair, NECA has been tearing it up with their Comic Con exclusives for a while now. Their latest though? It's pure TMNT bliss.
Possibly the greatest SDCC exclusive of all time
If you're a Ninja Turtles fan, there's just no way that you're not excited about this one. Toy website The Fwoosh has taken the wraps off a gem. It's magic, plain and simple. I can't think of any other way to describe NECA's latest set. Of course, there are some caveats, the main one being that this one'll be tough to get ahold of if you're not going to the Con.
The other? Well, even though there will be a small amount of these for order on NECA's site, they can't sell 'em outside of the US. I'm sure they'd love to, that's not the issue, but licensing limits what they can do with a TMNT 7″ action figure series. They're basically limited to selling at Cons in the US. Even the fact that you'll be able to get this on the web store is a miracle.
So with all that in mind, have a gander at this bad boy.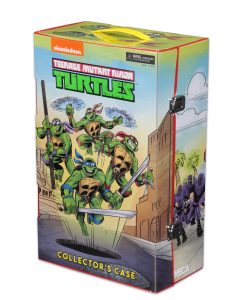 A vinyl collector's case is the housing, and that's cool all by itself. But inside is where you'll find a boat load of Turtles treasure. Namely, a nearly full roster of Foot Clan baddies and the fab four themselves.
I'm a monster TMNT fanboy, and I don't mind admitting I'm kind of freaking out. And as much as I would have liked to have had Rocksteady and Bebop in there, Krang is so freaking awesome I don't even care. Plus this is NECA, so if there's a way to get them to us as well at some point, they'll get it done.
You'll notice too, that while we don't get Krang's android body, we get two vehicles for him. We got a figure of the small walker in the classic Playmates line, but the tripod-roller-thing is a first – ever. Again… freaking out a lil'.
Price and availability
While you will be able to get this online and at SDCC, you'd best believe that it's going to be expensive. Still though, with all that's included, $200 USD isn't all that much to ask. In total, it includes eight figures, a load of accessories, and a carrying case. That's very solid for the price.
Click here to check out the original Fwoosh article, and see a pile more shots detailing everything. It's more than worth the click.