Android and iOS users can now experience on of the toughest side scrollers of all time. Yes, Ghouls 'N Ghosts is now on mobile.
You think Dark Souls is hard?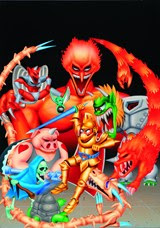 There were many, many tough side scrollers in the 8 and 16bit days. None though, vexed me quite as much as this one. Well, maybe Ghosts 'N Goblins… but that's practically the same thing. Playing it with a touchscreen? Yeah that seems like an exercise in futility.
Still though, for those who dare try, Ghouls 'N Ghosts is indeed now on iOS and Android handsets. Of course, and as you might imagine, there's an "easy" mode. I don't think that was a thing back in the SNES days, since I definitely would have made use of it.
Oh, and if leaderboards and achievements are your thing, then you'll be happy to learn that they're included as well. Yep, all the trimmings, including plenty of dying I assume.
And did I mention that it's on sale? For a limited time, Ghouls 'N Ghosts (as well as 1942,  Wolf of the Battlefield : Commando  and Ghosts'n Goblins) is on sale for .99 USD. Not too shabby there, and certainly a tempting price for those looking to try out a classic or two.
Just don't say I didn't warn you.