The world has collapsed and humanity has been reduced to vampiric ghouls. Meet Bandai Namco's latest – Code Vein.
Live for Death
"CODE VEIN provides a fresh anime aesthetic and blood-curdling gameplay twists to the popular 3rd-person action RPG genre," said Eric Hartness, Vice President of Marketing for BANDAI NAMCO Entertainment America Inc. "The talented development team at BANDAI NAMCO Studios is creating a tightly crafted experience filled with plenty of challenge that our fans crave along with a smart and engaging story that is sure to draw players deeper into the world of CODE VEIN. Let the feast begin!"
Well this is a surprise. And from the looks of the preview screens, it's a nice one too, as Code Vein is looking pretty nice. More than just a pretty face though, Bandai Namco's latest action/RPG has some cool lore behind it, and a world that seems ripe for some solid storytelling.
Set in the post-apocalypse, Code Vein centers on what's left of humanity. Something called the Thorns of Judgement encircle former cities, which have been reduced to rubble after some kind of crisis. Exactly what happened isn't clear, and it sounds like discovering that lost history will be a major part of the game's narrative.
You play as a Revenant, one of the last members of a hidden society called Vein. It's in the stronghold of your people that you'll find the scraps of remaining human life, though they're not exactly normal any more.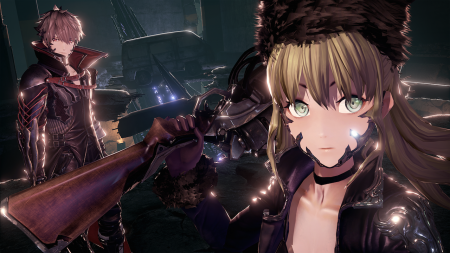 The humans of Code Vein have been transformed in a kind of trade-off. They got special powers and abilities, but were relieved of their memories and thirst for blood. So not the best of trades really. As a Revenant though, you'll be one step ahead of the biters.
Dark Gifts and plenty of ways to use 'em
Revenants will have access to something Bandai Namco is calling Blood Veils. What are they?  "Devices capable of draining the blood of their enemies in order to enhance their own abilities" of course.
Apparently, the powers you'll get to wield after a drain will be pretty neat too. You'll reportedly get the chance to do everything from increase your strength, to actually "change your form". No word on what that might mean, though I assume you can transform into something not so nice.
The publisher is playing up the strategic nature of combat, so you might assume you can expect something along the lines of a Dark Souls type experience. I'm not sure if that's set to be the case though, as Bandai Namco also mentions "overpowered attacks". So maybe a little of everything? That'd make sense if you're playing as a character that's something of a powerhouse in the world of Code Vein.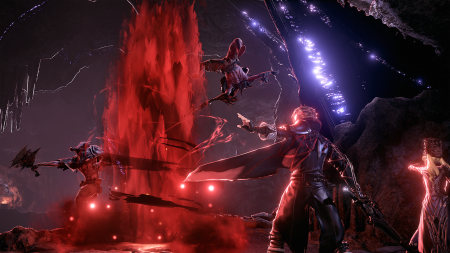 Oh, and about that world, as you can probably also tell, it has a decidedly 'anime' bent to it. It's also something that the game's publisher is particularly proud of, and probably with good reason since it looks terrific.
"CODE VEIN provides a fresh anime aesthetic and blood-curdling gameplay twists to the popular 3rd-person action RPG genre," said Eric Hartness, Vice President of Marketing for BANDAI NAMCO Entertainment America Inc. "The talented development team at BANDAI NAMCO Studios is creating a tightly crafted experience filled with plenty of challenge that our fans crave along with a smart and engaging story that is sure to draw players deeper into the world of CODE VEIN. Let the feast begin!"