Artist Francesco Francavilla's Black Beetle was undeniably cool. And if you dig the pulp/noire hero, then you'll be happy to know that he's back once again.
Beware the Black Beetle
First hitting stands in 2012, Francavilla's Black Beetle made an impression. It's not every day that you get a new hero set in the era of detective noire, after all. And apparently, fans ate it up, because here we are a few years later with a new book to talk about. Well, sort of new.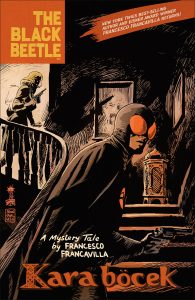 The Black Beetle: Kara Böcek is actually a collected edition. It brings together a run of stories that appeared first in Dark Horse Presents, in issues 28 through 32.
The Black Beetle: Kara Böcek follows the masked American hero as he ventures to the Middle East, traveling incognito (as Tom Sawyer) to fight Nazis in pursuit of a mysterious object of terrible power. This weapon of unknown origin is older than the pyramids and could fuel the Thousand-Year Reich of Hitler's dreams. This five-part story originally appeared in Dark Horse Presents #28–#32.
I'm only a sometime reader of DHP, so I missed all of these. Black Beetle though, is a character that I liked quite a bit from that earlier run, so I'll be checking this graphic novel out when it hits stands. And when might that be? September 6th of this year of course.