If you have ever found yourself wishing that you could manage a corrupt police station set in a fiction 1980's city where racism, sexism and the mafia rule, well, This is the Police is very likely the game for you.
I want to point out that many of the things in that previous paragraph are not seen as positives. In This is the Police, they just exist. They are a part of the world in which a relatively straight edge cop needs to re-evaluate his morality as the end of his career unexpectedly approaches.
In my time with this game, I found a compelling strategy and adventure game underneath a pretty gritty story.
Managing a corrupt police station isn't easy:
The vast majority of the gameplay in This is the Police revolves around managing the calls that come into the department as they come in. These can be simple assault problems, cases where the city wants an officer, a business wants an officer or even more intricate crimes where detectives are needed to solve a crime.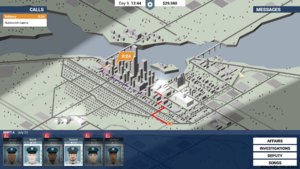 The strategy comes in when you need to decide how many officers to send to what crime. If you send too many officers, you wont have manpower when a homicide call comes in. There are a certain number of job slots for officers, and they are split up between shifts. It is up to the police chief, the player, to make sure they have enough officers for each day's on goings. This starts straightforward, but as time progresses towards the 180 day time limit, funding might get cut, or other obligations will pull away officers.
In addition to the professional work, sometimes employees just don't show up for work. Other times, they will show up but have hokey excuses for why they need to leave.
As the game progresses towards the main character's, the player's character Jack Boyd's retirement, you get the option to work with the mafia and the Federal Bureau of Investigations to take down a notorious serial killer. It is safe to say that the game is never dull. Each day brings new challenges to keep the formula changing in just the right ways.
Just as you're getting comfortable, you will get a notice from city hall telling you to fire all of your black officers, citing reasons of racial tension. These choices not only make the game a tad more interesting, they also make you think. Firing all of the black officers or suppressing a peaceful protest might make city hall happy, but at what cost?
This is the police is not a mechanically challenging gauntlet. Instead, it lets you envision life as a bureaucrat might. Sitting behind a desk and making executive decisions, you really get the feeling as though you're running the police station.
You get options and services for things through city hall, the mafia and through other places, but I never really found myself using them.
A soundtrack fit for an aging police chief in the 1980's:
Overall, the sound design works very well here. As each day begins, you can pick a song to listen to from your collection. Each song is jazz or big band, and sounds like the kind of music a late 50's to early 60's man in the 1980's would listen to. The music doesn't get in the way of gameplay, and adds to the immersion and experience.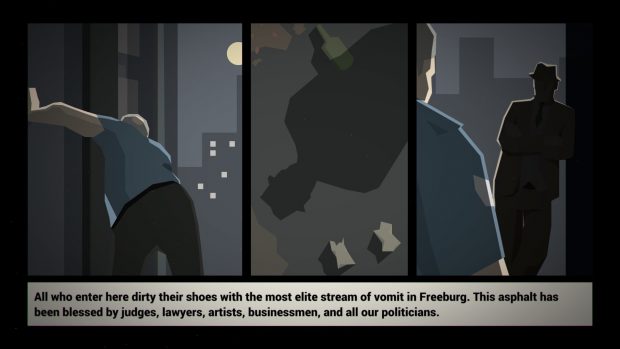 The sound design is great in other places as well. The voice acting and sound effects in the game are great as well. In This is the Police, there is not a huge focus on aesthetics, so I will just say this: The game is simple looking and conveys what it needs to convey.
The cut scenes are especially nice, and look like they were ripped right from the pages of a comic book.
An interesting story and premise in Freeburg:
You take over as Jack Boyd on the day he learns he is being forced to retire. Your wife, Laura, has left to be with a 30-year-old, and you want to make $500,000 in your remaining time working so you can retire peacefully.
Before long, you get wrapped up in a mafia war, a serial killer pursuit and much more. The game stays fresh throughout and never verges on the territory of getting stale.
Each time a day ended and I was forced to watch a cut scene, I was happy to see what kind of interaction was going on and what characters I would learn more about next. This continues throughout, and as plot lines become more involved, the anxiety between scenes grows.
Overall:
This is the Police is a gritty game set in the 1980's. The simulation and strategy focus was a great way to tackle this subject matter. I found that at the end of the campaign, I found myself wanting to go back for more.
This is the Police
Steam, GoG, Playstation 4, Xbox One
Weappy Studio
$14.99
Great!
Audio and Graphical Presentation - 85%
Premise of Story - 80%
Gameplay - 85%