One of the most highly anticipated games for 2017, Bethesda's Prey is now getting its own mini-film festival.
Prey remembers the Alamo
Want to know which movies affected the ideas behind, and development of, the Prey reboot? If you've been pondering that query at any point recently, then you'll be happy to know that somebody heard you. Bethesda has teamed up with GameStop and the Alamo Drafthouse theater chain to put together a little sci-fi film festival.
The movies included in the fest all were kept in mind at Arkane Studios, while the game was being worked on. They're the development house behind Prey, of course. So, all of these films played some part in influencing the themes and feel of the game. They're pretty diverse too with the likes of "MOON, Starship Troopers, Total Recall and The Matrix" all included.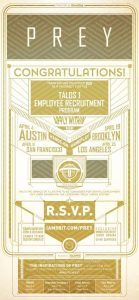 Now, there are a few things that you should keep in mind if you're planning on attending. For starters, the films will not all be shown throughout the same week. This isn't that kind of festival. Instead, Alamo will be showing one movie each week, throughout the month of April. And if you're in Austin, San Francisco, Los Angeles and New York? Well then you're in for way more than just a movie.
Alamo will be hosting a series of free events for fans on one day each, also through April. These events will feature advance play sessions with the game itself, as well as food and drink. There'll be contests too, with prizes including a custom Prey Xbox One or PS4.
Pretty neat, huh? Dates? Times? Here ya go: