The new trailer for Injustice 2 showcases a lot of returning characters for the series. During 'Shattered Alliances Part 2,' the following characters can be seen during the what will be the story mode. Bane, Flash, Green Lantern and Green Arrow (Oliver Queen edition) will be making a return to the Injustice 2 roster. A couple of new characters also made an appearance, Captain Cold and Reverse Flash.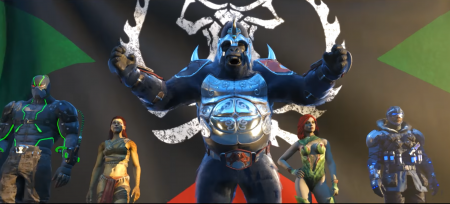 The Regime Returns In Injustice 2
After the imprisonment of Superman at the end of Injustice, it was up to the Regime to continue his work. While Batman continues to build support for his case against Superman, his Regime has been working behinds the scenes. It is safe to assume that his team will have something to do with helping Superman escape prison. An interesting group of bad guys can be seen standing with Gorilla Grodd. Captain Cold and Reverse Flash, both long-rumored characters, are finally confirmed. The group of villains has no clear indication their affiliation for either side. There were also some other returning heroes and one story of redemption.
Welcome To The Opposition
When Batman finally comes to the realization that he needs help, we see the return of the Flash and Green Arrow. The return of Hal Jordan as Green Lantern is a story of redemption. Hal is seen asking Batman to become a part of the opposition against Superman. Hal use to work with Superman in the Regime and he use to wear a yellow ring. During the trailer, he pleads his case to why Batman should trust him. To regain his green ring, Hal went to hell and back to become this Green Lantern. This is a lot to take in so make sure to watch the trailer a few times. It is right below. How excited are you for this game? Let us know in the comments! Injustice 2 is set for release on May 16, 2017. Look for it on PC, PlayStation 4 and Xbox One.