The One:12 Collection tackles Marvel's Man Without Fear. One of the newest action figures from Mezco Toyz, Daredevil is also one of their best.
Packaging for a devil
At first glance, the packaging for old Horn Head might seem a bit drab. All there is to it is a plain red front, framing the famous double-D symbol after all. That's not all that exciting. This is One:12 though, and so there's quite a bit more to it. Mezco's series of figures is all about detail, and that includes the boxes that they're packed in.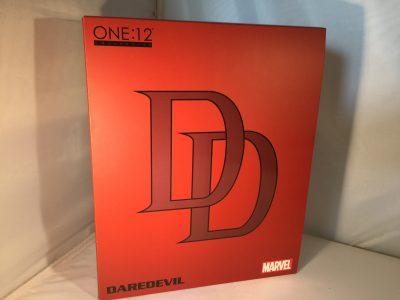 Flipping over the box, you'll see a number of different action shots of the enclosed figure. Some of these make for some great posing suggestions, and all of them make for some flat out nifty viewing material. Bottom line, Mezco knows how to pose their One:12's. And there's an even better show in store once you open things up.
Slide the box out of the slipcover, and flip the front flap open, and you'll reveal an awesome graphic showing DD in all his 'radar sensing' glory. Opposite that? Why that'd be the main event of course- the action figure itself.
Once you crack the top flap and take the plastic trays out, you'll be greeted with Daredevil, packed with several accessories. Pulling the figure out reveals the stand, and even more accessories. And under all this is yet another tray, which houses the posing stands. DD comes with two, one for him, and another smaller one that actually clips onto the body of the main one. What's that for? Radar sense effects obviously.
Accessories worthy of a vigilante
Daredevil is packed with an impressive array of extras. In with the figure itself, you'll find an assortment of hands, heads (called portraits), and his appropriate weapons. No, you're not going to get a bizarre range of hardware included. This isn't a mass market figure that includes stuff just to have it. All One:12 figures include the stuff that actually goes to the character you buy.
So what do you get then?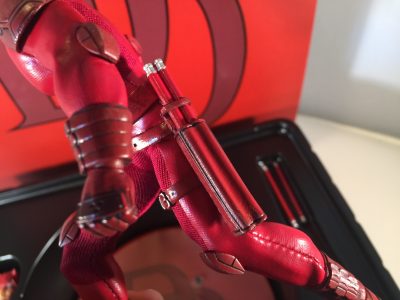 Well, for starters you get DD's billy clubs. both clubs fit into his leg-mounted holster too, which is a detail that I always love seeing in a figure. you actually get an extra pair of clubs too however, which are all kinds of awesome for posing.
This extra pair have a surprisingly strong wire running between them. So you can pose Daredevil swinging from them, or launching one out to an unsuspecting villain. They look great in use, and will definitely be included in the default pose for him on my shelf. And again, the wire is actually pretty darn strong. It supports the 'free' club shockingly well, and held it in most of the poses I tried.
Aside from the clubs though, and as I mentioned, there's a good deal more in the box. You'll also find five extra sets of hands in various poses, and a super awesome radar sense disc. This clips onto the extra stand accessory that I mentioned above and looks great. I did have some issues with lining it up *just right* with DD's head, but overall it works alright, and it looks cool when viewed from the right angle.
The Man Without Fear
The main event here is -quite honestly- freaking awesome. Daredevil has never had a better looking figure as far as I'm concerned. And I include all the Marvel Legends figures in that statement… and what the hey, I'll toss the Sideshow DD in there too, even though it's not final yet. From the preview pics anyway, this little guy has that one beat in terms of looks.
The costume is a nice variation on the classic 'tights' look that DD has had for almost all of his Marvel Comics career. This figure also doesn't fall into the TV trap either, being a riff on the Netflix version of the character. It's its own thing, and that's awesome.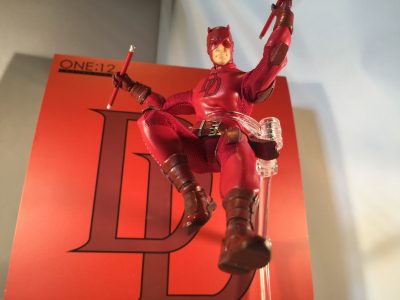 Mainly, the suit here has a great shine to it, giving it a leathery, light-armor look. That's contrasted against stretchy material that forms the underarm and crotch areas. It looks great, and actually seems like it would be perfectly fitting in real life. I could imagine Matt Murdock wearing this suit without much trouble.
There's another layer though. Covering certain parts of the costume are pieces of heavy armor. DD's shoulders and knees are made in this way, and match the look his gauntlets. Additionally, he's also got some cool-looking belts around his waist, some of which are connected to that holster that holds onto his clubs. All of it looks great and none of it hinders movement.
Speaking of which, the articulation and detail level is amazingly good.
Daredevil here is a One:12 figure though, and if you're familiar with the line, then that's to be expected. Standing in at the 6″ scale, the body features over 30 points of articulation. Yes really. And as you can see, he's capable of some pretty excellent poses.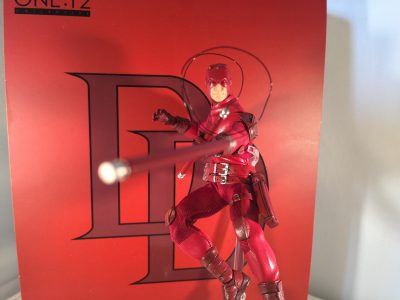 I will say that the makeup of the costume, meaning the 'leather' parts, do hinder the range of motion just a little. It's nothing that can't be worked around if you have a specific display pose in mind for the character, but it is a slight hindrance.
Mezco does the painting by hand on these too, which results in some pretty excellent detailing. The only exception here is the lower jaw, which is exposed skin for Daredevil. There's nothing particularly wrong with anything here, it just kind of lacks detail. Not that it's all that typical for the comic book version, but I would have loved to have seen some scruffy five o'clock shadow on him.
It's a detail that's kind of made up for though, with the battle-damaged portrait.
The sculpt is excellently done here, with heavy bruising around the eye and slightly open mouth. Speaking of eyes, while the masked portrait has pure red, both the battle-damaged and unmasked faces have great paint apps on the eyes.
At first glance, they look whited out, but they're not. When you inspect them closer, you can see that the color is washed over with white, giving Matt's eyes the look that you might expect considering Daredevil's visual impairment.
And while it might seem like I'm favoring the additional heads to the standard DD one that's included, it's pretty great in its own right. The helm looks great, with horns that aren't too long or short, and a tactical look that works very well indeed.
Pretty much all around, it's an A+ on sculpt, paint, and articulation.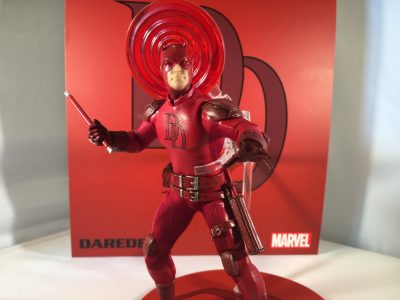 Daredevil
Availability: Available now
Brand: Mezco Toyz
Collectible type: Action Figure
Line: One:12 Collection
The Man Without Fear
Top notch sculpt and paint app that updates an iconic look - 95%
A Hell's Kitchen full of poseability - 88%
Awesome accessories, and a terrific batch of optional parts - 95%
Mezco's latest Marvel entry in their One:12 Collection is everything that Daredevil fans could hope for. Excellent sculpt and paint apps highlight what's an incredibly poseable action figure. Minor issues aside, this one's loaded with cool accessories and optional parts, and is a must for big fans.