Eddie Brock is about to step back into the Venom suit for the first time in years.
We are Venom!
Reunited, and it feels so good! Or, is it bad? Either way you swing it, Eddie Brock is back, and he's bonding with the symbiote once more ahead of the can't-miss VENOM #150 – the oversized anniversary spectacular coming this May! Series writer Mike Costa is joined by superstar guest artist Tradd Moore for an oversized main story featuring Eddie's return to the pages of Venom. Bonded together again, Eddie and the symbiote are web-slinging their way across New York City. But, is their relationship as harmonious as it once was? Or is their bond more sinister than ever?

But that's not all! In addition to a brutal main feature from Costa & Moore, VENOM #150 features the return of iconic past Venom creators! First up, secrets will be revealed! How did Flash Thompson come to lose the symbiote before it found its way to former Army Ranger Lee Price? The Venom: Space Knight creative team of Robbie Thompson and Gerardo Sandoval have the answers! Then, it's back to the mean streets of San Francisco as fan-favorite creators David Michelinie and Ron Lim present a tale set between the pages of their iconic Venom: Lethal Protector series!

It's all happening this May as a parade of Venom creators past and present bring you the must-read VENOM #150 – on sale digitally and wherever comics are sold!
New and old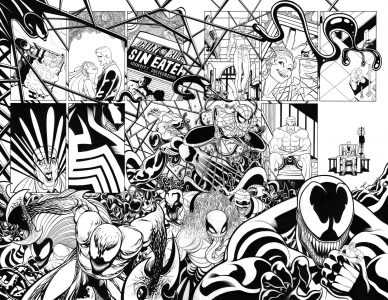 Often though of as a 'newer' Spider-Man foe, the alien symbiote has been around since '89. To me, that certainly make him a classic, and there's no more iconic version of him than the original. I'm of course talking about Eddie Brock.
With a seething hatred of Spider-Man, Brock made for an incredible villain. Heck, he even made for a decent anti-hero in the pages of Lethal Protector. Now that I think about it, Eddie's version of Venom had quite the run. That's something that makes issue #150 all that much sweeter.
Eddie returning to villainous glory in the main story is awesome all by itself. The issue could have stood on just that. But then showcasing prices of his history as backup tales? Now that's a proper 'welcome back'.
The Michelinie and Lim story should be a fun one, showing off the character's most heroic, pre-flash Thompson storyline. And seeing what exactly happened to Flash should be a nice gap-filler as well.
I have to admit, I haven't been following along since old toothy became the 'Space Knight'. So I'm pretty interested in seeing what happened to end Flash's run with the symbiote. Whatever it is though, it ended with a story that's bringing back one of the greatest baddies to ever grace a Spidey book.
What's not to like about that?